What You Need to Know About Page Authority
In our previous blog post, "Beginner's Guide to Domain Authority" we discussed the importance of implementing SEO tactics, particularly link building, to boost a website's Domain Authority Score. Domain Authority is the score of the entire website, where as Page Authority is more specific.
If you haven't yet read our blogs about link building, you can catch up here;
What is Page Authority?
Introduced by Moz, Page Authority predicts the probability of one specific page's ranking on SERPs.
Page Authority and Domain Authority are more similar than they are different, whilst Domain Authority judges the optimisation of entire domains (and sub domains), a Page Authority score is based on only one page.
It works the same way as Domain Authority; scores are out of /100 and the higher the score the greater the chances of a high ranking. Both styles of Authority consider several factors to predict rankings on SERPs.
Key Page Authority Points
According to Moz …
– Page Authority includes, link counts, MozRank and MozTrust scores (along with 40 other considerations)
– "It does not take into consideration specific on-page elements like keyword use or content optimization."
For reference;
– MozRank; calculates link popularity (Moz's version of Google's PageRank)
– MozTrust; calculates link equity
How to Increase Page and Domain Authority Scores
It's no secret that both styles of Authority can be challenging to influence, particularly if your score is over 70/100. Whilst your strategy to improve your scores will be timely, consistently using the below suggestions is sure to positively influence your scores.
Do Your Research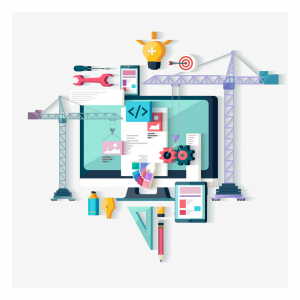 You should know by now that spammy links are a big no-no. When your site / page is crawled, search engines are looking for ways to validate your site's credibility and relevancy. If your website is associated with spammy links your site may not be trusted. Consequently, you'll probably have a low score.
Research possible link partners, ideally ones with a high Domain Authority, promote your content and why you think it would be valuable to their audience. Link building is relationship building, just like you would when looking for potential business partners, you need to determine how beneficial the relationship will be to you. The more credible the website you're associated to, the more validation you will receive when search engines crawl your site.
Design Your Site with SEO in Mind
It's good practise to have an optimised site, we've discussed SEO tactics at length in our previous blog posts;
Create a Story with Your Pages
This tactic is specific to Page Authority …
Link internally, where relevant, from one page to another on your website. Not only are you connecting your content and helping visitors navigate around your site you're also suggesting to search engines your content is logical, useful and relevant to users.
Also, the more links users click on the more content they read, and the more content they read the longer they spend on your website which will help to improve your website's page views and popularity.
Create Good Content
It's simple, produce engaging content that other businesses will want to link to. Your content needs to stand out, be informative and useful to consumers. If you want to discover more about producing content that others will want to share, just head over to our content writing blog posts.
Get Noticed
Other businesses will be on the look out for link building partners too, so make sure your own content is noticed. Below are a few suggestions to get your content noticed;
– Newsletters to round up your recent publications
– Producing regular content
– Sharing your content on Social Media
– Brush up on your SEO to boost organic reach
– Share your content on publication sites like Medium
– Offer guest posts and request them
There's no quick fix for boosting your Page or Domain Authority. But link building is a heavily influencing factor when search engines crawl the web determine the how valuable pages and websites are.
Could We Help?
Link building can be a fully time job; you need to dedicate a chunk of time to Page and Domain Authority scores, analyse your score and look for improvements. If you can't dedicate the time needed to run an effective link building campaign … we're experts in SEO so, we can do it for you!
Get in touch for a free, no obligation consultation for more information!
E: contact@differentgravydigital.co.uk
Tel: 0161 706 0004
Why not check out our Digital Marketing Terms Glossary?
About the author: 
Marie Harwood is a Digital Marketing Assistant at Different Gravy Digital, Hale, Cheshire.
Different Gravy Digital are a full service Digital Marketing Agency operating in the Hospitality & Leisure, Financial Services, Legal & Property sectors.  Products and services range from; 3D & 360° Tours, Website Design & Build, Social Media, Video Production, Search Engine Optimisation (SEO), Content Creation, Email Marketing, Online Feedback / Review Systems and Paid Advertising (Google, Bing and Social Media).
Contact Details:
marie@differentgravydigital.co.uk
0161 706 0004
120a Ashley Road, Hale, Altrincham, Cheshire, WA14 2UN