A Beginners Guide to Content Marketing; Our Writing Tips
Content marketing is crucial for your business website; it helps to drive customer action and informs viewers of who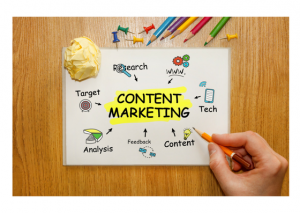 you are and what you do.
The best websites centre around their audience. To do this effectively, you need to know who your target market is and produce your content with them at the forefront of your mind. Brush-up on how to understand your own customers in our previous blog post, "Who is Your Business Avatar?"
Please note these are suggested guidelines rather than set in stone rules.
Here's our writing tips to help you produce successful content!
7 Top Writing Tips
1. Be Conversational
No one wants to read endless essays. Write content like you're speaking directly to a customer, it would help if you used second person pronouns like "you" and "we" and contractions.
Writing content for a website is completely different to writing a formal essay. Try to adopt a friendly, informal tone.
2. But, Write in Simple English
Whilst you should be conversational, try not to over complicate things. Keep your copy simple and if you need to use technical language or jargon, try to explain what it means.
People typically don't want to read complicated paragraphs full of tonnes of information; they want to be able to scan your content. Research suggests users spend around 5.59 second looking at written content. With that in mind, you need to make sure you're copy is catering for scanners.
After you produce content; use our checklist to double check you've written with scanners in mind;
– Does your headline clearly outline what your content is about?
– Do your images compliment your content?
– Have you used sub headlines / bold lettering to highlight your main points?
– Have you used bullet points for quicker reading?
3. Linking
Internal links are important when producing new content. This way readers will able to find other relevant or useful content that you've published, whilst hopefully helping Google crawl your site.
All you need to do is provide working hyper links that direct viewers to other handy pages, you'll be able to keep your content more concise since you won't need to keep repeating yourself with content you've already published.
4. Make Use of Headlines
Not only do headlines help optimise your site, but they help users find relevant content. Here's a few points about headlines;
– They need to provoke curiosity
– Keep them short and snappy
– Include relevant keywords your audience are most likely to use
– Include adjectives when applicable
5. Keywords
Along with your audience, keywords need to be at the forefront of your mind when producing content. You'll find it useful to read our blog post, "How to Choose the Right Keywords for Website Optimisation"
You need to choose familiar words. For example, people are more likely to search, "cheap hotel in Manchester" than "cost effective hotel in Manchester".
6. Don't Bombard with Information
– Use short paragraphs; lengthy ones can be off-putting
– Use imagery to break up text
– Avoid unnecessary words
– Check for repetition
– No jargon without an explanation
– Make sure your sentences aren't too long
How long should your text be? Good question. It's up to you, sometimes more content is required to ensure all the important information is included. Ask a colleague to read over your work and check for mistakes or if any content is unnecessary and could be removed.
7. Keep Your Content Up to Date
If viewers notice your content isn't current anymore, your business will probably suffer. Your site will lose credibility, and some viewers could wonder whether your business is still running.
But, you shouldn't only add content, remove content that is historic. If you have a lot of useful information cluttering your site, viewers could miss the important stuff.
Concluding
Take on board our writing tips to improve your own content.
People aren't going to read every single word on your website, no matter how good your content is. So, keep it simple for them to see your main points and your most useful information.
Remember your website needs to be valuable to consumers and that starts with producing good content. Are you wondering where to get started with creating or updating your website, check out our previous blog post, "The 4 Website Pages Every Business Needs".
About the author: 
Marie Harwood is a Digital Marketing Assistant at Different Gravy Digital, Hale, Cheshire.
Different Gravy Digital are a full service Digital Marketing Agency operating in the Hospitality & Leisure, Financial Services, Legal & Property sectors.  Products and services range from; 3D & 360° Tours, Website Design & Build, Social Media, Messenger Chatbots, Search Engine Optimisation (SEO), Content Creation, Email Marketing, Online Feedback / Review Systems and Paid Advertising (Google, Bing and Social Media).
Contact Details:
marie@differentgravydigital.co.uk
0161 706 0004
120a Ashley Road, Hale, Altrincham, Cheshire, WA14 2UN