Website Pages: Getting Started with the Basics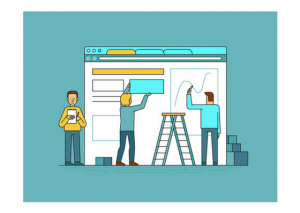 Your website pages are one of the most important tools a business can have. Surprisingly 2 million businesses in the UK don't have a website …
If you're wondering if a website is even important, remind yourself of the incredible benefits that websites bring in our blog post, "Is a Website Important?"
Your website is available 24/7 and it's an online description of your business. Websites can often be a consumer's first impression of an organisation; it's vital you make it professional, to the point and in language your audience will understand.
Whilst every website is unique, typically speaking, there are 4 pages on a website that should certainly be present. It's crucial these 4 website pages deliver all the information your audience need for a conversion.
The 4 Most Important Pages for a Website
1. Home Page
2. About Page
3. Blog
4. Contact Us Page
In this article, you will learn about the necessary information that needs to be included on each page of your website.
1. Home Page
Obviously, your website will need a home page, it's a bit of a no-brainer.
This is the first page visitors will see when the visit your website, so its important to make a good first impression. You actually have around 7 seconds to grab website visitor's attention …
Whilst you can make your home page your own, we recommend you include the following key features!
Who are you? Make your mark; it's your website and you need to show consumers it's yours. Include your brand name and logo! Its critical consumers know whose website they've landed on.
What do you do? You don't need to go in to too much detail, but you should explain a little bit about your selves. Are you a restaurant? A digital agency? A recruitment consultancy? Go in to as much or as minimal information as you see necessary.
Make your home page stand out; use a big head line and place the vital information right in front of your audience.
What do you want your audience to do? Know your audience know more about your business, you need to let them know where you want them to go. Include calls-to-action (CTAs), for example;
– Book a Consultation
– Enquire Now
– Browse Our Products
Your home page may even have room for a few CTAs, make them clear to viewers by making CTA buttons large with a working link.
Pro Tip; don't forget about your navigation menu. Visitors can use a home page to navigate themselves around a site and find the relevant website pages (hence the need for clear CTAs, but users will also use a navigation menu! Make sure it's visible, working and easy to use).
2. About Page
Who are you?
You may want to include;
– About your team
– How long your business has been running
– How your business came to be
– How your business has grown
– Any partnerships you have with other organisations
Don't be afraid to brag about your business, the About Page is where customers will come to learn more about you. Your About Page will help potential customers learn more about you; so, you need to demonstrate how your business is reputable, honest and successful.
3. Services Page
What do you offer?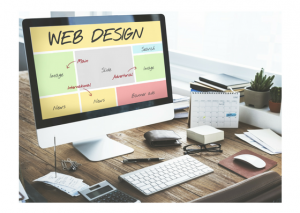 To turn leads in to conversions, your consumers need to know what it is you're selling or promoting. If you own a restaurant, for example, your services page will probably be your menu.
Dependent on how many services you offer, this could be a single page or multiple pages. Make sure you include all the information visitors will need to make a purchasing decision. Perhaps answer queries, like why people need your product or service, what it does and how it works.
If applicable, use some imagery so your products or services are visually appealing.
4. Contact Us Page
Put the key information front and centre. For example;
– Email address
– Phone number
– Contact form
– Location
– Office address
– Links to your Social Media accounts; Facebook, Instagram, Twitter
It's safe to assume consumers come to your Contact Us Page because they're looking to get in touch. Therefore, your CTAs need to be relevant to communication, for example;
Chat Now!
Email Now!
Call Now!
Bonus Page; Your Blog
A blog is your place to let your brand's personality shine. Show-off what you know, highlight the benefits of your products and discuss topical events. If you want to explore the benefits of blogging for business, check out our previous blog post, "Is Blogging for Business Beneficial?"
Consider our below tips for your own Blog Page;
– Organize your blogs clearly, keep it logical and display your most recent articles first
– Create categories so users can read about certain topics that interest them
– Include the date of publication, image and header
Our Final Thoughts
There are plenty of other pages to consider, but the above 4 are crucial website pages for an effective website. Use your Home, About, Services and Contact Us pages as a starting point for your website.
You can always put your website in our safe hands; we're experts in website design and build!
Get in touch for a free, no obligation consultation for more information!
E: contact@differentgravydigital.co.uk
Tel: 0161 706 0004
About the author: 
Marie Harwood is a Digital Marketing Assistant at Different Gravy Digital, Hale, Cheshire.
Different Gravy Digital are a full service Digital Marketing Agency operating in the Hospitality & Leisure, Financial Services, Legal & Property sectors.  Products and services range from; 3D & 360° Tours, Website Design & Build, Social Media, Messenger Chatbots, Search Engine Optimisation (SEO), Content Creation, Email Marketing, Online Feedback / Review Systems and Paid Advertising (Google, Bing and Social Media).
Contact Details:
marie@differentgravydigital.co.uk
0161 706 0004
120a Ashley Road, Hale, Altrincham, Cheshire, WA14 2UN