Getting Started with Link Building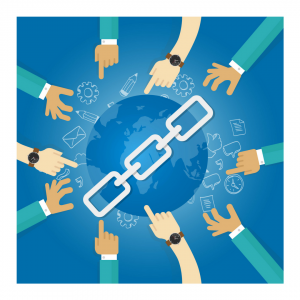 What's link building? Why is link building one of the most recommended SEO strategies? What effect does it have on your website?
In our previous blog post, "Beginners Guide; What is SEO" we started to discuss link building. In the articles to come, we will be exploring link building in greater detail, so you can implement your own link building strategies.
We all try to make our websites SEO-friendly, so we can rank higher on SERPs (Search Engine Result Pages) to increase our website traffic, brand visibility and push conversions.
As you know, only the top results on SERPs get traffic; if you page appears on the second page of SERPs, you lose around 90% of your target market!
What is Link Building?
Link building is simply hyperlinks that direct users to your website from another website. A hyperlink, mostly referred to as just link, is a way for visitors to visit different pages on the internet.
It goes without saying that building links from other sites can be a challenging, time consuming task.
If you manage to obtain relevant, high-quality links to your site you should see a rise in referral traffic and an increase in your site's authority on SERPs, search engine results page.
Why Should I Build Links?
Google's Algorithm is constantly evolving, but link building has always remained a crucial feature to boost a site's SEO.
Links validate your site to Google as a useful resource for visitors on the web. Therefore, the more backlinks you have the higher your ranking should go.
The Right Way to Build Links
There's a good and bad way to build links.
You may have heard of 'white-hat' and 'black-hat' as SEO link building techniques. Whilst black-hat might seem like a quick fix for link building, they violate SEO guidelines and your site will be penalised or removed as a result.
You need to play the waiting game with building links, it's a timely process but the rewards are completely worth it.
White-hat SEO Strategies
There are legitimate and right ways to build links. By adopting legitimate means of accumulating links, there is little to no risk of running in to problems with search engines when they crawl your site.
Here's a few tactics to consider;
– Create your own engaging content that others will want to mention on their own website, check out our blog post, "Content Marketing: 7 Top Writing Tips" for more information.
– Building a loyal following who will want to share your content for others to read
– Marketing your content to relevant people in a genuine way
– Make relationships with other businesses and consider featuring a link to one another's content where relevant on your site
You'll have to focus on the long-term goal of your business instead of short, temporary ambitions. It might take a while to see an increase in traffic and ranking of your site on SERPS, but your success is extremely unlikely to disappear in the blink of an eye (unlike it would with black-hat strategies).
Black-hat Strategies
The worst thing you can do for your SEO is look for loop holes to violate search engine guidelines.
To keep you out of trouble, here's a few examples of what you should NOT be doing to build links;
– Broken links
– Irrelevant and useless links
– Links to or from sites which are spammy or unethical
– Links to or from link farms (web pages created with the only purpose of linking to a target page)
– The over-use of links only include links with a purpose
Black-hat strategies don't work in the long term. Once your exploits are discovered (and they will be) your SEO ranking, website traffic, conversions and sales with suffer.
If you want to learn more about Google's Webmaster Guidelines, you can do so here.
The Bottom Line
With link building, search engines want to see links that you have earned and deserve. Stay clear of bad link building strategies and play the waiting game with white-hat link building strategies and you'll soon see an improvement in your ranking and traffic.
Keep an eye out for our next blog post where we will be exploring the importance of building links.
Could We Help?
Link building will take up a lot of your valuable time; you need to dedicate a chunk of time to improve your ranking, find relevant links and implement them into your site. If you can't dedicate the time needed to run an effective link building campaign … we're experts so, we can do it for you!
Get in touch for a free, no obligation consultation for more information!
E: contact@differentgravydigital.co.uk
Tel: 0161 706 0004
Why not check out our Digital Marketing Terms Glossary?
About the author: 
Marie Harwood is a Digital Marketing Assistant at Different Gravy Digital, Hale, Cheshire.
Different Gravy Digital are a full service Digital Marketing Agency operating in the Hospitality & Leisure, Financial Services, Legal & Property sectors.  Products and services range from; 3D & 360° Tours, Website Design & Build, Social Media, Video Production, Search Engine Optimisation (SEO), Content Creation, Email Marketing, Online Feedback / Review Systems and Paid Advertising (Google, Bing and Social Media).
Contact Details:
marie@differentgravydigital.co.uk
0161 706 0004
120a Ashley Road, Hale, Altrincham, Cheshire, WA14 2UN