How to Build Your Mailing List from Scratch
To build your mailing list from scratch, you need to find the answers to 3 questions: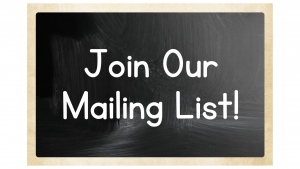 1. Who do I want to signup to my mailing list?
2. Where can I collect the email addresses?
3. Why would someone subscribe to my mailing list?
If your business is new and you're looking to kick start your marketing campaigns, this guide is perfect for you.
If you've been involved in a business for a while but don't yet have an active list of subscribers, our guide will help you. It's never too late to begin building your mailing list from scratch.
1. Who Do I Want to Sign up to My Mailing List?
As always, the first thing to do is to define your target audience.
To help, you can use our guide: Who is Your Business Avatar?
Defining who you're going to target is paramount for the next few steps.
2. Where Can I Collect Email Addresses?
Where do your audience spend most of their time? Facebook? Instagram? Twitter? LinkedIn? Just because you don't have a list of valuable subscribers doesn't mean your business doesn't already have a valuable network. Use social media to promote your email newsletter, for example.
Do you blog? If you don't – check out our reasons why you should: Is Blogging for Business Beneficial?
The people who take the time to read your blog post are potential email subscribers. Use your quality content to show consumers that your marketing communications would be helpful to them. Offer your web visitors more content through your emails, this way it won't sound sketchy or intrusive – but helpful.
Implement pop-ups on your website. After a visitor has spent a certain amount of time on your web page, offer to share more meaningful content. The over-use or incorrect use of pop-ups can be dangerous. Find out how to use them properly: Should Websites Feature Pop-ups?
3. Why Would Someone Subscribe To My Mailing List?
The average office worker receives about 90 emails a day – why would they possibly want to receive any more? Our inboxes are over-crowded and very competitive, so you need to show consumers why there's room in there for you:
What do they get from it? Valuable insights through your content? Unmissable offers? Tell them.
Address possible concerns – how often do you usually send emails? Can they unsubscribe without any hassle?
Is the sign-up simple? How long will it take?
Why are they signing up? To get your weekly newsletter? To enter a competition?
What Happens Next?
So, you've built your mailing list from scratch, what do you do now?  If you have 20 subscribers or 20,000 it doesn't matter. What matters is how valuable everyone is.
Stick to what you promised, continue growing your list and deliver successful email marketing campaigns.
You might also like: