Beginner's Guide to A/B Testing for Email Campaigns
Email marketing presents a lot of opportunities for businesses to drive conversions and push return on investment. As a valuable marketing tool, it's important brands know what is proving successful on their email marketing campaigns and what is having little effect on recipients. With this in mind, it's vital businesses run A/B testing for email campaigns to improve their opening, click-through and conversion rates.
You can catch up on the basics of A/B testing here:
In this article, we will be guiding you through the process of A/B testing for email campaigns and suggesting what you might want to test.
Typically, you'll be monitoring your …
– Open rate
– Click-through rate
– Conversion rate
That means the changes you make should have the purpose of measuring what causes the greatest opening, click-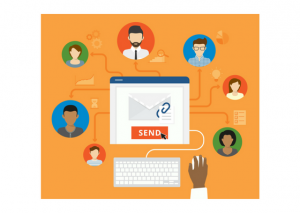 through and conversion rate.
What to Test in Your Email Campaign
Below are a few examples of what you might want to test:
Your Subject Line
Emails with personalised subject lines are 26% more likely to be opened …
So, perhaps include the recipient's name in the subject line could boost your open rate?
Alternatively, maybe a to the point subject line like, "We have 20% off all products" could raise your open rates. Or, a more intriguing subject line like, "You won't want to miss this".
Interestingly the exact opposite could happen as the "20% off" could perhaps be interpreted by email providers or recipients as possible spam and could therefore negatively affect your open rate.
How You Refer to Your Recipients
– Mr / Ms?
– First name?
– No name?
Call to Action (CTA)
There's no doubt about it, your email must include some form of CTA. According to WordStream, emails with a single call-to-action increased clicks 371% and sales 1617%.
One version could feature the CTA, "Enquire Now" and the other, "Contact Us". Perhaps include, "now" persuades recipients to click?
The Email Layout
Will a clean layout or busy one push conversion?
– Single column?
– Two columns?
– Predominately text or images?
Writing Content
You might want to alter the …
– Headline
– Main body text
– Closing text
Key Points to Consider When A/B Testing for Email Campaigns
Your Mailing List
As we mentioned in yesterdays blog post, to make it a fair test you need to send half of the recipient's version one and the other half version two.
It's best to test your entire list, because you'll have a load of data. But testing a smaller sample might be best to start with.
Your reputation is still at stake so it's important your A/B doesn't cause an influx in unsubscribers / blocks. If one version of your email has an extreme or controversial headline, for example, then you might want to test on a smaller number of recipients.
Choose Your Recipients at Random
It's a no brainer that you need to keep your test fair for it to be accurate. You should select recipients from your mailing list at random. If possible, try to have an even number of sign-up source to receive each version. For example, if ½ of your mailing list signed-up through a newsletter, separate them evenly so one ½ receive the first version and the other ½ the second.
Test Together
Send your two versions out at the same time, so you don't need to factor in time when determining your results (which is obviously only if you're not testing the best time to send emails).
You could test whether time reflects differently on your opening, CTR and conversion rates. Maybe scheduling emails during working hours or at the weekend would work better for your business?
Your Report Must be Fact-based
When weighing up the results of you're A/B testing for email campaigns, it's crucial you stick to the data in front of you only and don't let your opinion get in the way. Your reports should be based on empirical data and not your opinion of what worked better.
Well thought out A/B Testing for email campaigns can be very rewarding for businesses. It's a great tool to uncover what engages your audience the most and pushes them to act.
Why not check out our Digital Marketing Terms Glossary?
About the author: 
Marie Harwood is a Digital Marketing Assistant at Different Gravy Digital, Hale, Cheshire.
Different Gravy Digital are a full service Digital Marketing Agency operating in the Hospitality & Leisure, Financial Services, Legal & Property sectors.  Products and services range from; 3D & 360° Tours, Website Design & Build, Social Media, Video Production, Search Engine Optimisation (SEO), Content Creation, Email Marketing, Online Feedback / Review Systems and Paid Advertising (Google, Bing and Social Media).
Contact Details:
marie@differentgravydigital.co.uk
0161 706 000
120a Ashley Road, Hale, Altrincham, Cheshire, WA14 2UN