Getting Started with A/B Testing
A/B testing can be used to test anything, from websites to social media advertisements and sales emails. Instead of guessing what elements of a campaign are pushing conversions, A/B testing allows businesses to statistically analyse what's working the best for them.
What is A/B Testing?
Also known as split testing or bucket testing, it's the method of comparing two versions of content (like a webpage or email) to determine which one has the most impact on the target audience. for example, a change in the call-to-action on a page may cause higher click-through-rate, CTR.
It can make a huge difference in the effectiveness of your marketing campaigns, it narrows down the most effective elements of your campaign, so you can improve them for future ones.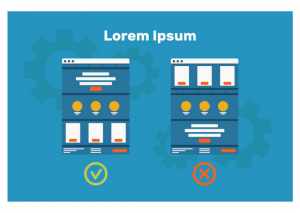 How A/B Testing Works?
In an A/B test, you create a web page, for example, and create a second version and modify what you want to test. Modification can be slight, like a different headline or a button. Or, you can completely redesign the page, the choice is completely up to you. Then, half the traffic is directed to the first page and the other half the second.
As visitors interact with the 1st and second page, you can measure their engagement. For example, the number of clicks on a CTA.  Then, you can decide which format / content works best for user experience and interaction.
How to Plan an A/B Test
1. Figure out what it is you want to test: for example, if a change in a banner advertisement raises the CTR
2. What variables you want to test: for example, the text, button or design of the banner advertisement
It's good to have some idea of what you're looking for. For instance, are you hoping for a higher conversion rate on an email campaign, or are you just looking for a higher open rate? Knowing what you're looking for will help you to make the alterations to the second version, so you can test it effectively.
What to Change on an A/B Test
It's completely up to you but focus on things which are likely to have an impact.
On a landing page, you may want to consider testing:
– Your CTA
– The opening headline
– Design layout
– Product / service descriptions
– Product / service images
Can I Test More Than One Thing?
Some say test only one thing at a time, but you can test more if you want to. Testing a couple of things at the same time, like a product description and the opening headline, will more challenging to run and monitor.
Why not check out our Digital Marketing Terms Glossary?
About the author: 
Marie Harwood is a Digital Marketing Assistant at Different Gravy Digital, Hale, Cheshire.
Different Gravy Digital are a full service Digital Marketing Agency operating in the Hospitality & Leisure, Financial Services, Legal & Property sectors.  Products and services range from; 3D & 360° Tours, Website Design & Build, Social Media, Video Production, Search Engine Optimisation (SEO), Content Creation, Email Marketing, Online Feedback / Review Systems and Paid Advertising (Google, Bing and Social Media).
Contact Details:
marie@differentgravydigital.co.uk
0161 706 0004
120a Ashley Road, Hale, Altrincham, Cheshire, WA14 2UN