GIFs in DMs?
Watch out for GIFs sliding into your DMs … Instagram recently announced that users can now send GIFs in DMs (direct messages)!
After launching Gifs in Instagram Stories earlier this year, the Facebook-owned platform is now letting users access GIFs within DMs. Go into your DMs and you'll find a new button in the compose bar labelled, "GIF". Users can search trending GIFs, use a keyword for a certain GIF or use the 'random' option to send a surprise GIF based on your keyword.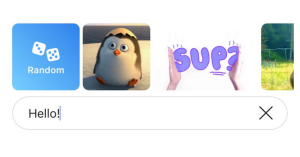 Instagram's latest featured is powered by Giphy – the top source for the newest and best GIFs online.
"In any message thread, tap the new GIF button in the composer bar to open a library of the latest trending GIFs powered by GIPHY. Swipe through to see what's currently trending or search using keywords or phrases to find the perfect GIF to make your friends laugh." – Instagram
The feature is available right now … as long as you have the latest version of the app. (For both Android and iOS users).
Instagram's partnership with Giphy to bring Gifs in DMs just highlights how the app has continued growth. It's fast becoming the 'do it all app', users and businesses can already share Live Stories, provide links to websites amongst other cool features. Besides, who doesn't like an amusing GIF convo?
Keep on top of all things Instagram:
Why not check out our Digital Marketing Terms Glossary?
About the author:
Marie Harwood is a Digital Marketing Assistant at Different Gravy Digital, Hale, Cheshire.
Different Gravy Digital are a full service Digital Marketing Agency operating in the Hospitality & Leisure, Financial Services, Legal & Property sectors. Products and services range from; 3D & 360° Tours, Website Design & Build, Social Media, Video Production, Search Engine Optimisation (SEO), Content Creation, Email Marketing, Online Feedback / Review Systems and Paid Advertising (Google, Bing and Social Media).
Contact Details:
marie@differentgravydigital.co.uk
0161 706 000
120a Ashley Road, Hale, Altrincham, Cheshire, WA14 2UN