Our Guide to Build a Brand on Instagram
80% of Instagram users voluntarily connect with brands on Instagram. Instagram is known for having higher engagement rates that any other social network, so it makes sense for businesses to be using the powerful platform to promote and grow their brand.
Instagram is fast becoming one of the key components for marketers to build brand awareness and create strong relationships which translates into higher conversion rates and ROI.
It crucial businesses have a presence, but it's even more important they stand out and centre their account around their brand.
Unsure where to begin? Are you a first time Instagram user? Do you already use Instagram for business, but you're unsure how to build a brand? Are you look for key ways to establish your business as industry leaders on Instagram?
In this article, we will be guiding you how to build a brand on Instagram.
1. Beginning Your Profile
When you start your Instagram account there a few key details you will need to complete, here's what we recommend:
Name: title of your business
Username: title of your business or something associated with your brand
Website: probably your home page, unless there is a specific page you want viewers to land on
Bio: say a little about your brand, what you do and what makes you different (it must be short since you only have 150 characters)
Top tip: key words are a plus in your bio, since you don't have a lot of space it's crucial you get the main points of your business across, which you can do concisely with keywords.
Email: the best address for potential customers to contact you
Phone number: the best number for potential customers to contact you
Profile Photo: there are varying opinions on what your photo should be, depending on who you ask:
– Your business logo, because it's recognisable and triggers brand recognition
– A photo of you or your team, because its more personal and shows the faces behind the business
Personally, we think business logo, it's what consumers and other businesses recognise, whereas faces can be more forgettable, and they can blend in with consumer accounts.
Top tip: regarding logos, consistency is key. To raise brand awareness, it's vital you use the same logo for your Instagram, Twitter, Facebook, website along with other platforms you may be using.
2. Creating a Styl
Instagram is image conscious and as a marketing platform its important businesses are delivering their message in the most visually appealing way.
Look beyond filters, there are an array of different patterns you could have a play around with. It's about your posts being recognisable and noticeable whilst people scroll down their feed.
To keep your image fresh, you might want to:
– Include a personalised border on every post
– Feature your brand logo or signature in posts
– Use a specific background colour
– If your images include copy, write in the same voice, font and colour
You don't need to have a signature style on your posts, and some brands don't adopt this method, but it might be a way for you get people noticing your posts when they're scrolling through their feed.
3. Promote Your Profile
Direct traffic to your account by including links to your profile through your other marketing efforts, for instance:
Your website
e-newsletter
Other social media accounts
Business cards (not a link but your username)
4. Hashtag Marketing
For styling and running your account to be worthwhile you need to attract traffic to it. Hashtagging is one way to do so …
– Relating to your industry
– Describing what's in your post
– Brands in your niche who are relevant to the post
– Location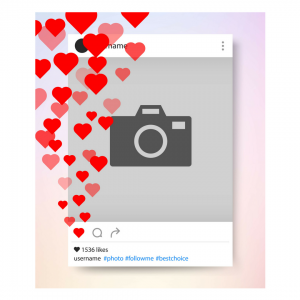 If you aren't convinced about using hashtags, you'll change your mind when you read our previous blog post, "How to Use Hashtag Marketing"
5. Have You Thought About Using Canva?
It's a free platform which even has the image dimensions for Instagram posts! It saves you faffing around manipulating your photos when it comes to posting then. Canva is feature rich, and certainly a powerful tool for Instagram marketing.
The Bottom Line
To build a brand on Instagram you need to deliver content that reflects what your business is about and encourages users to remain interested in your updates. Instagram can be a fantastic addition to your marketing, it can be a home for your products or services that will hopefully result in brand awareness, conversions and a great ROI.
Learn more about Instagram:
Why not check out our Digital Marketing Terms Glossary?
About the author:
Marie Harwood is a Digital Marketing Assistant at Different Gravy Digital, Hale, Cheshire.
Different Gravy Digital are a full service Digital Marketing Agency operating in the Hospitality & Leisure, Financial Services, Legal & Property sectors. Products and services range from; 3D & 360° Tours, Website Design & Build, Social Media, Video Production, Search Engine Optimisation (SEO), Content Creation, Email Marketing, Online Feedback / Review Systems and Paid Advertising (Google, Bing and Social Media).
Contact Details:
marie@differentgravydigital.co.uk
0161 706 000
120a Ashley Road, Hale, Altrincham, Cheshire, WA14 2UN