Have You Discovered the Brilliance of Canva Yet?
Imagery is a fantastic way to grasp the attention of your target audience, whether it be on your website, email marketing campaigns or social media posts. Canva is one of the easiest and effective design tools that ANYONE can use.
Use Canva to create incredible visuals, from Facebook banners, Instagram images to infographics.
Do I Need to be a Designed to Use Canva?
Absolutely not. It's simply and straight forward.
First, you need to pick a layout …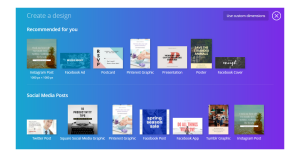 It's accessible to anyone, you don't need to be high-skilled to create fantastic images using Canva.
Anyone can easily navigate themselves around Canva, just look at the format:
Here's a few features you can use:
– A whole host of readily available photos and illustrations
– A series of layouts you can modify to be in sync with your brand
– Upload your own imagery to personalise your visual
– A series of fonts
– A range of frames to make your image stand out
– Custom dimensions so your image is the perfect size
A lot of editing software can be a bit on the pricy side, but Canva is FREE. Some elements you can pay for if you choose to, like some images and illustrations. But they're around $1 each so it doesn't break the bank. Canva can be an alternative to Adobe, admittedly you might not be able to have as intricate a design as you would with Illustrator and Photoshop, but Canva's still produces professional visuals that will jazz up your website, social posts and email campaigns.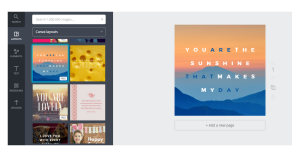 Two Tips to Consider …
– You can use existing design layouts again and again. If you want to use a template you have previous made, head over to Your Designs scroll until you find it.
– As we said earlier, you can upload images to Canva. Feature logos and watermarks on your design to brand your images. You only need to upload them once: head over to your uploads folder, bottom left corner, to find all your previous uploads.
Using Canva is super simple and convenient. Simple set up your free account, explore the different layouts and features and your very own stunning visuals.
Why not check out our Digital Marketing Terms Glossary?
About the author:
Marie Harwood is a Digital Marketing Assistant at Different Gravy Digital, Hale, Cheshire.
Different Gravy Digital are a full service Digital Marketing Agency operating in the Hospitality & Leisure, Financial Services, Legal & Property sectors. Products and services range from; 3D & 360° Tours, Website Design & Build, Social Media, Video Production, Search Engine Optimisation (SEO), Content Creation, Email Marketing, Online Feedback / Review Systems and Paid Advertising (Google, Bing and Social Media).
Contact Details:
marie@differentgravydigital.co.uk
0161 706 0004
120a Ashley Road, Hale, Altrincham, Cheshire, WA14 2UN