An Introduction to Facebook Insights for Your Business Page
In this article, you'll learn about Facebook Insights and how to use them for your Facebook Business Page.
Catch up on our previous blog posts;
No matter the size of your business you can use social media to promote your brand, and one of the most powerful platforms is Facebook.
Facebook has come a long way from being used only by students to connect online. It has progressed to be one of the most used and popular social networking sites across the world, with 5 new profiles being created every second.
Facebook has become a staple for businesses, it's an effective way to reach a wide audience and monitor your progress. But, you can only enjoy the benefits of a Facebook Business page if you make the most out of the platform.
What Will My Facebook Insights Include?
Facebook Insights will help you understand who among your audience is engaged with your posts. No matter what your objectives for using Facebook are, it's important to regularly review your success to see what could be improved ahead of your next post.
If you take advantage of your Facebook Insights; you can expect to get your hands on all kinds of data. Take a look at the below;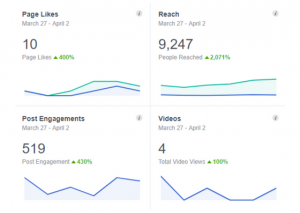 Likes
– Page Likes; how many likes your page has accumulated for each day, over a 28-day period
– Net Likes; your number of likes compared to the numbed of unlikes
– Where Likes Happened; where your page was liked and where they happened
Reach
– Post Reach; how many people your post reached by paid advertising and organically
– Your Positive Engagement; how many likes, comments and shares you've achieved
– Your Negative Engagement; has any one hidden your posts, reported you as spam or unliked your Facebook Business Page
– Total Reach; how many users have served any kind of activity from your Page
Visits
– Page / Tab Visits; how many times your page tabs have been viewed by users
– External Referrers: how many times users have been directed to your page from a website off Facebook
Posts
– When Are Your Fans Online: see when those who have liked your Facebook Business Page are active on Facebook
– Posts Type: analyse the success of your different posts based on their average reach and engagement
– Your Top Posts: the engagement of your posts from the other Facebook Business Pages you're watching
Video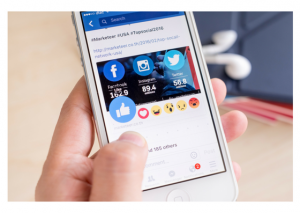 – Video Views: how many times where your Page's videos viewed for 3+ seconds
– 30-Second Views: How many times has your Page's video been engaging enough for viewers to watch for 30+ seconds. If you're video is shorted than 30 seconds, you're results will show those who have watched 97%
– Top Videos; what are your most watched videos
People
– Your Fans: look at the demographic, location and language of your fans
– People Reached: who has your post been served to over a 28-day period
– People Engaged: who has liked / commented / shared your posts over a 28-day period.
Why Should My Business Use Facebook Insights?
Dive into your Insights to receive a shed-load of information about how your content is performing. Monitor your overall performance, avoid strategies that aren't working and boost your brand.
You have access to real-time data, which of course should not be ignored.  Facebook Insights will help you to stay in touch with content that's benefiting your business. Facebook Business Page needs to be progressing, and the way to do so is look at your data.
So, you have access to all this incredible data. But what do you do with it?
Making the Most of Facebook Insights
You need to know what's working for your audience, and equally, what isn't.
You need to consider things like;
– When your audience are typically active on Facebook (so you can maximise your viewing)
– What style of posts are most successful? Do your engagement levels fluctuate dependent on the type of post? Videos? Shared Articles?
– How can we maximise our engagement?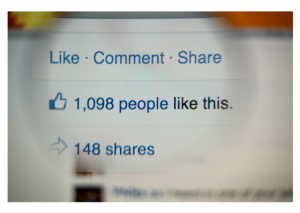 If you notice that short videos are performing particularly well, for example, perhaps you need to spend more time focusing on producing more engaging video content.
Facebook Insights will give you a great understanding of who your audience are. Which will work in your favour because the greater your understanding of your target market, the greater chance you have of appealing directly to them in your future posts.
Your data will always be changing, so it's crucial to routinely check on it. Don't analyse Facebook Insights as a one-off job. Routinely check your progress, and constantly look for ways to improve.
The Bottom Line
Facebook Insights will tell you absolutely everything that happens on your Facebook Business Page. But, the pressures on you to make use of that information and improve your performance.
Use your data to target certain demographics or locations and discover what really gets results for your business. No business is the same, and no Facebook Business Page can use the same strategies and achieve the same results.
About the author: 
Marie Harwood is a Digital Marketing Assistant at Different Gravy Digital, Hale, Cheshire.
Different Gravy Digital are a full service Digital Marketing Agency operating in the Hospitality & Leisure, Financial Services, Legal & Property sectors.  Products and services range from; 3D & 360° Tours, Website Design & Build, Social Media, Messenger Chatbots, Search Engine Optimisation (SEO), Content Creation, Email Marketing, Online Feedback / Review Systems and Paid Advertising (Google, Bing and Social Media).
Contact Details:
marie@differentgravydigital.co.uk
0161 706 0004
120a Ashley Road, Hale, Altrincham, Cheshire, WA14 2UN