Why the Styles of Facebook Ads Are So Important?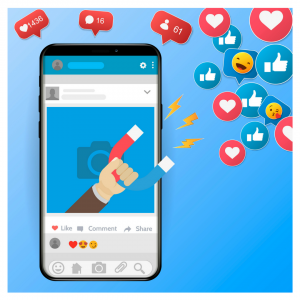 Facebook ads are thriving, with an impressive 95.8% of social media marketers confirming Facebook delivers the best ROI among the social networks.
For businesses, Facebook is a gold mine of data and is full of highly targeted marketing opportunities. More and more companies are using Facebook to advertise their business because there are many different ad types with a massive audience.
There are different styles of Facebook ads dependent on your end goal. Whether you want to boost traffic to your website, encourage readers to your new blog post or push app installation, it's always important to focus on your main objective and consider what style will be most effective to reach it.
Facebook's Algorithm
Organic reaching on Facebook is pretty much non-existent. If you want to boost your business via Facebook, it does come at a small cost (which is completely worth it). If you want to learn more about Facebook's Algorithm, head over to our previous blog post, "All About Facebook's Algorithm".
In this article, we will be covering the main Facebook ad forms that you could use to further your business.
The Different Styles of Facebook Ads
Facebook aims to put your goal front and centre!
Whether you want to use video, imagery or text (or a combination of elements), there will be a Facebook Ad format suited for your business objective.
Photo Facebook Ads
Imagery can be the perfect way to grasp attention. Place a photo ad on Facebook to increase awareness of who you are and what you do.
It's recommend opting for this style if you want to …
– Bring attention to your brand; captivating photos will get your business noticed
– Raise product awareness; perhaps promoting a new product or service
Video Facebook Ads
The length of your video is up to you; maybe a snappy 6 second video will get your message across, or perhaps you want to go in to more detail with a longer one.
It's important to consider how long you want your video to be … mobile-watchers prefer shorter video ads (15 seconds maximum). Shorter videos have higher completion rates, so you can successfully deliver your complete message.
Not all businesses will be able to deliver their message in just a few seconds. If you have a long story to tell, ensure your focusing on maintaining your audience's attention.
Carousel Facebook Ads
Choose a carousel ad if you want more space to get your message across. Show up to ten images or videos with in a single ad, each with its own link.
You'll have more room to be creative; you could share …
– Different products
– Specific details / features
– Tell a story about your business that develops across each card
– Explain a process
If you want your audience to be interactive, carousel ads are probably your best option. To see each card from your carousel, viewers will be needing to swipe or click.
Slideshow Facebook Ads
Create a slideshow by using still images or by using an existing video.
Slideshow ads work like video, they play and capture attention. Although, video ads can sometimes be difficult to create, slideshow ads are incredibly simple and quick to produce.
Dan Kohn, Founder and CEO of DealRay, commented, "One of the biggest advantages of slideshow is that we don't need a lot of resources to produce live video ads. It's an incredibly simple way to make ads from existing photos and stock images – we were blown away by our success using them. We're now using slideshow to think through what we should invest in for our first video, testing creative to get a sense of what will bring the best return on investment."
Collection Facebook Ads
Let your audience tap on your ad to browse more of your products or learn more about a specific product.
Collection ads use a custom Canvas template, so people can easily discover, browse and buy products and view offers. Similarly to carousel ads, viewers are encouraged to interact and navigate themselves around your ad.
Collection ads start off as a newsfeed experience which leads on to Canvas. When someone clicks on your collection ad, they will be directed to a full-screen experience to encourage interaction and intent. Canvas will be able to send people to your website or app, so their intent can turn in to an action. For example; making an enquiry or buying a product.
This style would be particularly good for mobile shoppers, you could promote an offer and feature a range of products or services.
Messenger Ads
Facebook Messenger offers a new and exciting way to deliver content to your target market. You can run ads on the home screen of user's Messenger app. This style works just the same as ads features on Facebook's Newsfeed.  When viewers tap on your ad, they'll be directed to the destination you have chosen, like a landing page, website or app.
Messenger ads can also …
– Open new conversations; if you choose a click-to-Messenger ad so users can start a conversation with your business
– Manage) existing conversations
– Restart communications; through sponsored messages
What This Means for Your Business
Don't dive straight in to creating an ad without considering your objective.
Your priority must be the purpose of your advertisement! Why are you advertising? What does your business want to achieve?
There could be a few different styles that could work perfectly for your business; you don't need to choose one alone!
Consider the right ad, deliver it at the right time, to the right audience and enjoy watching your business grow!
About the author: 
Marie Harwood is a Digital Marketing Assistant at Different Gravy Digital, Hale, Cheshire.
Different Gravy Digital are a full service Digital Marketing Agency operating in the Hospitality & Leisure, Financial Services, Legal & Property sectors.  Products and services range from; 3D & 360° Tours, Website Design & Build, Social Media, Messenger Chatbots, Search Engine Optimisation (SEO), Content Creation, Email Marketing, Online Feedback / Review Systems and Paid Advertising (Google, Bing and Social Media).
Contact Details:
marie@differentgravydigital.co.uk
0161 706 0004
120a Ashley Road, Hale, Altrincham, Cheshire, WA14 2UN