How to Generate Leads: 6 Top Tips
Carrying on from our previous blog post, "Beginner's Guide to Lead Generation" you should know that a lead is a person who has expressed interest in your company and lead generation is the process of getting leads. In this article, we will be exploring how you can generate your own leads.
For a business to be successful they need people to buy from them, it can often be a challenge to convert consumers into paying customers.
Why You Shouldn't Buy Leads Lists
There could be a temptation to buy leads, it might seem like the quick, easy option. You might think another business has done all the hard work for you and all you need to do is contact them and start pitching. But this really isn't always the case.
Leads don't make you money alone. It's the quality of the leads and what you do with them that's the money maker.
One of the biggest problems with buying leads list is they may not be quality leads, so they probably won't result in any sales.
– You know about them, but they don't know about you
– They haven't expressed any INTEREST in you, they may think it's intrusive for you to contact them out of the blue
– You have no idea if they've been contacted by several similar companies who have bought the same list as you
– You won't know how effective the leads are until you've bought them and made contact
The Dangers of Buying Leads
– You're interrupting them: your messages will likely be It's not the best first impression.
– You run the risk of being black listed: if a consumer receives an email from your business and they have no idea how you got their contact details they'll probably report your message as spam
– A bad reputation: if you're known for spontaneously contacting consumers when they have not consented to it, who would want to buy from you?
It's so much better to generate your own leads organically (like we will shortly be covering) rather than buying them from a company. At least this way your leads are more likely to convert into paying customers since they've already invited you to communicate with them.
How to Generate Leads: The Different Strategies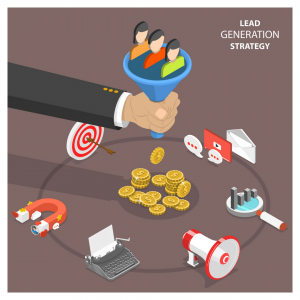 The best way to generate leads is to attract customers by …
1. Improving Organic Reach on Search Engines
Dedicating time to improving the search engine optimisation (SEO) of your website will boost your ranking on SERPs and increase your visibility. You may attract more website traffic in which you can encourage users to share their contact information. Now you've got a good volume of traffic to your site, you can focus on creating landing pages, webinars and blogs to encourage visitors to share their contact information.
You'll find our earlier blog posts useful;
2. Launch a Landing Page
Your landing page could have various uses, but an effective landing page could be something like;
A form where visitors provide their contact details in exchange for something beneficial to them. This could be an incentive like an offer, discount code or a free consultation.
You could implement Social Media marketing and launch email marketing campaigns to promote visitors to your landing page. Head over to our blog post, "How to Make Your Landing Page Work" for insightful suggestions about creating an effective landing page.
3. Website Popup Forms
When a visitor lands on your website it's the perfect opportunity for you to request they share their contact details so you can help them find what they're looking for.
Keep the forms brief, just the basic details like name, their preferred method of contact and any information you see relevant.
4. Webinars
Launching your own webinars is an inexpensive way to get your message and brand across to potentially thousands of consumers. If you share webinars regularly, it's an effective way to build a following. Discuss interesting industry related topics and you can encourage listeners to provide their contact details and sign up, so they never miss a new post.
5. Starting Your Own Newsletter
Feature your blog posts, industry news and updates in your business through your newsletter. Not only is it an obvious way to get your email address so you can send personalised communications, but it's also a good way to create a loyal following.
6. Start a Blog
One of our favourite sayings is making an appearance again, content is king!
Blogs are a great way to trigger interest from consumers. Have a clear comment section for consumers to give feedback, ask questions and share their thoughts so you have another opportunity to ask for their contact details.
There are plenty of other reasons why blogging for business is so advantageous, you can read all about them, "Is Blogging for Business Beneficial?"
The Bottom Line
Whilst there are plenty you can generate leads, none of them are easy. But for many businesses, particularly start-ups, knowing how to generate leads is a necessity to a successful company.
Keep an eye out for our next blog post where we will be exploring how to nurture your leads.
If you have any questions about generating leads, you can ask them in the comments section.
Why not check out our Digital Marketing Terms Glossary?
About the author:
Marie Harwood is a Digital Marketing Assistant at Different Gravy Digital, Hale, Cheshire.
Different Gravy Digital are a full service Digital Marketing Agency operating in the Hospitality & Leisure, Financial Services, Legal & Property sectors. Products and services range from; 3D & 360° Tours, Website Design & Build, Social Media, Video Production, Search Engine Optimisation (SEO), Content Creation, Email Marketing, Online Feedback / Review Systems and Paid Advertising (Google, Bing and Social Media).
Contact Details:
marie@differentgravydigital.co.uk
0161 706 0004
120a Ashley Road, Hale, Altrincham, Cheshire, WA14 2UN