Beginner's Guide to B2B and B2C Email Marketing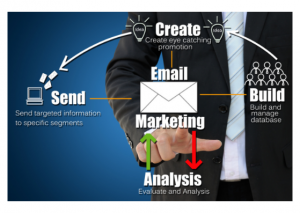 B2B and B2C email marketing is a powerful tool for businesses to reach their target audience, but only if they do it in the right way.
Despite the rising trend of SMS marketing and paid social media advertising, email marketing has remained a strong method for businesses to convert their target audience into customers. Email marketing is far from dead, here you can discover why.
In fact, 59% of B2B markers say that email is their most effective channel for revenue generation.
Establishing relationships, promoting products and generating sales are just some of the goals that both B2B and B2C email marketing share. But there are core differences in approach that marketers need to consider when delivering email campaigns for businesses and consumers.
Here's how B2B and B2C email marketing differs.
The Email Content
The buying cycle is longer for B2B sales. It's recommended that businesses deliver a range of non-pushy, informative content (like seminars, eBooks etc) to gradually convert recipients into clients.
For B2B marketing, email is often the first step in the marketing funnel. Hopefully it should lead onto a phone call and then a face-to-face meeting as the relationship progresses.
B2C is the complete opposite. Emails need to tap into our impulsive nature, where we see an irresistible offer and instantly make a purchase. To make your product more compelling, consider including discount codes, exclusive sales and promotional offers.
The Typical Buying Cycle
B2B sales usually have a lengthy cycle.
The B2B buying cycle can last several months and can involve numerous decision makers. They naturally have a longer structure, since it can take a while for a business to make a real impression that gets the seal of approval from stakeholders.
Marketers need to impress several people for a sale to be made, businesses are financially focused and are constantly analysing whether your product / service is the perfect solution to their problem. A range of content styles can fuel a purchase, to see results with B2B email marketing you should consider:
– Proving why you're an expert within your industry
– The knowledge you have to offer – through the form of webinars, eBooks and whitepapers
– How you have helped similar businesses – by sharing case studies and testimonials
The most important thing to remember with B2B marketing is nothing happens over-night. Expect sales to take a lot of time and produce emails featuring in-depth content filled with solutions to problems businesses may not have even thought of.
Businesses just aren't impulse buyers, unlike consumers …
For B2C email campaigns to be successful they need to centre in on the split-decision making abilities of their recipient.
Consumer sales can happen in just a few minutes, even as quick as 4 simple steps:
1. They open the email
2. Click on a CTA link
3. Visit your landing page
4. Make a purchase
The Best Time to Send B2B and B2C Email Marketing Campaigns
Your results will be greatly impacted by the timing of your emails. You're not the only business sending content, some may receive numerous promotional content a day.
B2B recipients might have their emails synced to their phone for 24/7 access, but it's unlikely they'll check promotional content out of hours. Granted some might give it a quick glance and make a mental note to check at their desk, but your email will probably get lost in the inbox with all the rest.
For B2B content, it makes sense to send it during working hours – typically Monday to Friday, 9 am – 5 pm.
B2B recipients are consumers too, and they will probably check their personal emails before or after work. Try sending your content for B2C marketing during the evening when they're likely to be hassle free.
The above is just a general suggestion – every target audience is different and therefore requires a different peak time. Check out our blog on A/B testing for email campaigns to discover how you can find the optimal time for your email marketing.
The Bottom Line
Both B2B and B2C email marketing have one thing in common, value of content.
B2C emails have to be entertaining, tapping in our impulse decision making and emotion provoking. Feature plenty of CTAs, snappy messages and eye-catching imagery.
Whereas B2B emails often fuel the start of a relationships. Demonstrate your knowledge, establish your business as an industry expert and show why you're the best business to partner with.
Alter your approach to specifically meet the needs of your target audience, keep testing your campaigns and deliver maximum value with every email.
You might also like:
Why not check out our Digital Marketing Terms Glossary?
About the author:
Marie Harwood is a Digital Marketing Assistant at Different Gravy Digital, Hale, Cheshire.
Different Gravy Digital are a full service Digital Marketing Agency operating in the Hospitality & Leisure, Financial Services, Legal & Property sectors. Products and services range from; 3D & 360° Tours, Website Design & Build, Social Media, Video Production, Search Engine Optimisation (SEO), Content Creation, Email Marketing, Online Feedback / Review Systems and Paid Advertising (Google, Bing and Social Media).
Contact Details:
marie@differentgravydigital.co.uk
0161 706 000
120a Ashley Road, Hale, Altrincham, Cheshire, WA14 2U