How to Write Engaging Instagram Captions
Take a look at our guide to writing perfect Instagram captions.
Instagram for businesses is all about using high-quality photos to …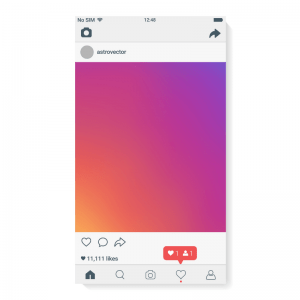 – Get more followers
– Generate engagement
– Raise brand awareness
– Find potential leads
– Get sales
– Raise revenue
But your Instagram captions should not be an afterthought. Your captions speak for your visual content, so what is it you want them to say? What action should they trigger from your consumers?
What Makes an Excellent Instagram Caption?
Your caption could be funny, inspirational, exciting or serious, it's up to you.
But your caption should add context to your visual, be inline with your brand's personality and cater to your target audience.
Your captions should do three things:
1. Encourage your target audience to fulfil an action
2. Bring value to consumers so they share it
3. Explain what your visual is about
What Can Instagram Captions Include?
– Characters – up to 2,200
– Hashtags – up to 30
– Emojis
This doesn't mean your captions should be riddled with hashtags and emojis, use them with caution. Find out more:
7 Top Tips to Write The Best Instagram Captions
1. Remember You're Posting for Your Audience
As always, it's important you know your audience so you can meet their needs and expectations.
We recommend building your own business avatar to help you keep focused. Learn more: Who is Your Business Avatar?
2. Only Include the Important Stuff
You have 2,200 characters to play around with, but the captions cut off user's feeds 3 or 4 lines in. To see the rest, users will have to click 'see more'.
Include the important stuff, your CTA for example, at the beginning of the caption to ensure consumers see if when they scroll down their feed.
3. Take Your Time
Don't think of the perfect caption once the post has already been published.
Don't rush. Think of a few ideas for your captions, review them, maybe tweak them some more and choose which is best.
4. Use Hashtags, But Not Too Many
As long as your account is public, your post will appear to anyone who searches / follows a hashtag.
They're great for finding new followers and reaching more of your target market – but they should not be overused.
Using too many hashtags can look spammy to your followers. Sometimes it can look desperate and may cause your existing followers to unfollow you.
5. Hashtags Go At The End of Your Caption
Remember that Instagram cuts your caption off at around 3 / 4 lines. Don't list your hashtags until the end of the caption.
But if your hashtag fits seamlessly into your caption, then that's an exception to the rule. For example:
"We're excited to be visiting the #MarketingEvent2019 this weekend, will you be there?"
6. Try to Keep A Consistent Voice
Try to be as consistent as you can – but there will be times when there's an exception to the rule. For example, you might be a fun, light-hearted brand – but, if you're delivering an important message then a serious tone would be more suitable.
Remember you should be writing with your brand's voice.
7. Remember Your CTA
– Do you want consumers to enter your competition?
– Do you want consumers to visit the link in your bio?
– Do you want them to answer a question?
Just let them know!
A Quick Recap:
– Think about your brand and your audience
– Hashtags come last
– Feature clear CTA's
– Don't rush