Why Website Maintenance is So Important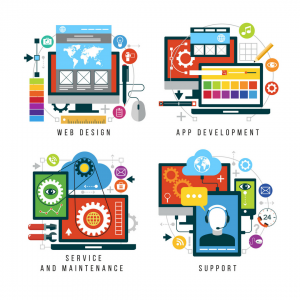 Website Maintenance is not something you can afford to put at the bottom of your to-do list. Whilst it may seem like a chore, it's a necessity that MUST be done.
If you don't maintain your website, you're exposing yourself to a whole host of problems. You run the risk of your site failing, being hacked, a reduced ranking on SERPs, lengthy loading times and shed load of other disasters.
Your website is your virtual shop window, it needs to be monitored, clean and as appealing as possible to visitors.
in this post we will be pointing out the main areas of website maintenance. This isn't an exhaustive list, but the points below are typical causes of website crashes, hacks and issues.
You can catch up on our previous blog posts here:
Top Reasons for Maintaining Your Website
1. Keep One Step Ahead of Hackers with Website Backups
Here's a nightmare scenario: visitors to your website click on your home page and land on a completely different company page.
Your website has been hacked.
The quickest way to resolve your nightmare is a website backup. It might be the only way you can speedily get your website up and running ahead of your next website visit.
The possibility of getting hacked is a harsh reality, and you need to be prepared for the nightmare scenario.
Run regular website backups to protect yourself against;
– Website crashes
– Updates that didn't go as expected
– Accidental deletes
2. Keep Your Site in Top Condition with WordPress Updates
WordPress software updates are launched often, including theme and plugins updates. Updates make sure your website is running as it should be, ignoring notifications to update will probably cause your site to become out-of-date. And just like failure to backup your website, your business can run into a whole plethora of problems.
WordPress updates are there for a reason, they help to keep your website secure and bug free. Whilst updating they give your site the newest features and the most seamless experience for customers on your website.
3. Keeping Your Database Tidy
If you've had your WordPress website for some time, it's likely it needs a spring clean. Regularly de-cluttering your site will get rid of irrelevant information on your database, like spam comments, trashed content, un-used or duplicate images and data from plugins you don't even use any more (along with much more).
Keeping your database clean will reduce the size of your data base (so backups don't take as long) and you could possibly see small improvements to your site speed and performance.
4. Anti-spam Measures
Spam can damage the integrity and reputation of your website and brand. It just doesn't look good for potential customers to be looking around your website to see a load of dodgy comments. It's off-putting and portrays your site as untrustworthy.
You can spot a spam comment easily, typically the user has only posted to build a backlink to boost their own SEO. The comments are usually random, have no relation to your content and add very little value to your website.
We've Got You Covered
Website maintenance isn't a one-stop job. You need to routinely check your website to check for technical issues and problems. But isn't prevention better than a cure? Different Gravy Digital are experts in maintaining websites. You can be assured your website is in safe hands, we'll keep it performance it's best and up-to-date.
Get in touch for a free, no obligation consultation for more information!
E: contact@differentgravydigital.co.uk
Tel: 0161 706 0004
Why not check out our Digital Marketing Terms Glossary?
About the author:
Marie Harwood is a Digital Marketing Assistant at Different Gravy Digital, Hale, Cheshire.
Different Gravy Digital are a full service Digital Marketing Agency operating in the Hospitality & Leisure, Financial Services, Legal & Property sectors. Products and services range from; 3D & 360° Tours, Website Design & Build, Social Media, Video Production, Search Engine Optimisation (SEO), Content Creation, Email Marketing, Online Feedback / Review Systems and Paid Advertising (Google, Bing and Social Media).
Contact Details:
marie@differentgravydigital.co.uk
0161 706 0004
120a Ashley Road, Hale, Altrincham, Cheshire, WA14 2UN