The Basics; Setup Your LinkedIn Company Page
No matter what your goals are, every company should be using LinkedIn for business. To get started, you need to setup your LinkedIn Company Page
LinkedIn company pages and user profiles are the new online business card. And the content you share is how you network with other profiles and pages. With 500 million users on LinkedIn, it's a no-brainer for users to take advantage of such a big platform.
Company pages are where opinions start to form, viewers will be asking themselves, "Can I see my self working for this company?", "Could this company become a potential partner?", "Will their products and services be what we need?".
In this article, we're only going to cover the basic, but necessary, steps of how to setup your LinkedIn Company Page.
But first, do you have a LinkedIn profile? If not, you need to create one first, so you can set up your company page.
How to Setup Your LinkedIn Company Page
1. Adding Your Company
You need to create a Company Page. The steps are straightforward; simply enter your company name and URL so people can use to find your business on LinkedIn. Verify that you're an official representative of your company and you have the right to act on behalf the company. Now you're good to go.
LinkedIn will provide you with it's standard Page layout, all you need to do is fill-in the correct information.
2. Add A Cover Image and Logo
Your logo is self-explanatory; use your existing company logo and make sure it's high quality. Don't underestimate the importance of a logo on LinkedIn, logo images get 6 times more traffic to their pages!
You have more freedom with your cover image, but it needs to express your company's identity.
Here's a few examples of what you could use for your LinkedIn cover image;
– A picture of all your employees
– Your logo, again
– A visual representation of what services or products you offer
– A suggestion of who you are as a business
– Imagery of your product
– Examples of your previous work
3. Your Company Description
This is important text; your description is one of the first things viewers will see when they click on your page.
Who are your audience? Your business avatar is crucial here, you're writing for them. Think about what you want your audience to know…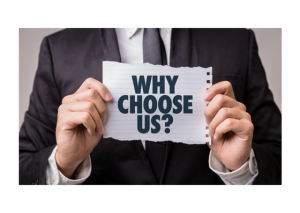 – What do you do?
– What services and products do you offer?
– What's so good about your company?
– Why are you the best in your industry?
– What makes your company different?
When writing your description, you need to be producing what your audience will care about. It might seem difficult and overwhelming to produce an engaging description, but it's necessary to make a positive first impression.
You only have 2000 characters; every word needs to matter.
What to Expect Next …
In this blog post we've only covered the basic essentials. Whilst the above steps may seem obvious, it's important you complete them before you can continue building your page. Keep your eye's peeled for our blog post about optimising your LinkedIn Page and making the most of using LinkedIn for business.
But do you really have the time to manage your LinkedIn presence and ensure your business gets the most out of the platform? We do!
Get in touch for a free, no obligation consultation for more information!
E: contact@differentgravydigital.co.uk
Tel: 0161 706 0004
About the author: 
Marie Harwood is a Digital Marketing Assistant at Different Gravy Digital, Hale, Cheshire.
Different Gravy Digital are a full service Digital Marketing Agency operating in the Hospitality & Leisure, Financial Services, Legal & Property sectors.  Products and services range from; 3D & 360° Tours, Website Design & Build, Social Media, Video Production, Search Engine Optimisation (SEO), Content Creation, Email Marketing, Online Feedback / Review Systems and Paid Advertising (Google, Bing and Social Media).
Contact Details:
marie@differentgravydigital.co.uk
0161 706 0004
120a Ashley Road, Hale, Altrincham, Cheshire, WA14 2UN