Why Should I Set Goals with Google Analytics?
Monitoring your page views and traffic is important, but it's more important to discover how your website is progressing your business. You need to know the vital metrics; leads, newsletter signups, subscriptions and downloads. And more importantly, you need to track your metrics to measure your success. How do you do this? You set goals with Google Analytics and keep a close eye on your progress.
Like campaigns goals, you can set goals with Google Analytics to help you track whether people are doing what you expect them to do. There are probably several different actions people could take that would benefit your business, so tracking how many people are doing so is crucial.
By now you should know what Google Analytics is and how to set it up in your website, if you don't you can catch up here;
Google Analytics supplies all the statistics that you need to know about your website, but it's down to you to set goals in place to make the most of the platform.
How to Find and Set Goals with Google Analytics
1. Go to your profile dashboard on the left side of your page
2. Select 'Admin' (near the bottom)
3. Click 'Goals' (it has a flag icon)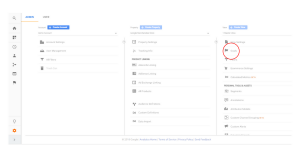 One you've set up your goals, (for example to track the number of signups on a newsletter), Google Analytics will use their feature called 'Goals' to track your conversions. You can monitor your goals with conversion-related metrics which will include statistics like; the total number of conversions and the percentage of converted users (conversion rate).
Take your goal setting one step further with a funnel.
What is a Goal Funnel?
A Funnel will track how far visitors to your website get to reach your goal.
A Google Analytics funnel represents the different steps needed to complete your goal. For example, you can monitor how many people are visiting your sign-up page but not completing the signup. This will help you to monitor how many visitors are completing the conversion process, and if the percentage isn't what you expected you can improve your strategy.
4. Goal Setup
You need to determine what you want to track; Google will have a few templates relevant to your business or you can set up a custom goal.
For example, you may want to set up a goal to monitor how many successful purchases have been made.
5. Goal Description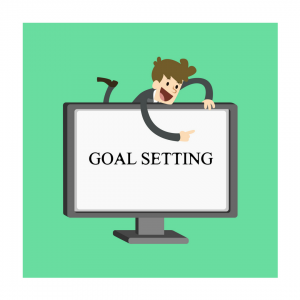 Give your goal a name; it's best just to keep it simple and relevant to the purpose of your goal.
For example, with a goal to get subscriptions use the name, "Successful Subscriptions"
Or, if your aim is services enquires name your goal, "Complete Enquiries"
Each goal has a specific Goal slot ID; it's nothing to worry about, it just organizes your goals from a simple 1 to 20. This way you can keep your goals organized, but you can just you're the default slot which will place your goals in ascending order based upon when you set them.
For example, your first goal set with be 1, the next will be 2 and so on.
Next, you need to select a goal type. Each type is based on a certain user action.
– Destination; your goal will track when users reach a certain page (like a completion of subscription)
– Duration; will track how long users spend on your page (you could use this to see how long users spend reading your blog posts)
– Events; a better title for this would be, 'Actions', because that's what it essentially means.
– Smart Goal; this is a more complex option, you can measure the most engaged visits and they will automatically turn the visits in to goals. For beginners it's wise to either have a Destination, Duration or Events Goal to begin with until you become comfortable with Google Analytics.
If you want to make a Funnel Goal – you need to select Destination. Remember, a funnel tracks each stage a user completes or drops out of reaching your goal.
Goal Details
First, select the drop down, "Equal to"
You need to enter your destination URL; the page where users will have completed the conversion process.
For example, if your goal is for users to reach your 'Thank You' page after completing a subscription, then use the URL for that page.
Your URL you need to enter is after your domain.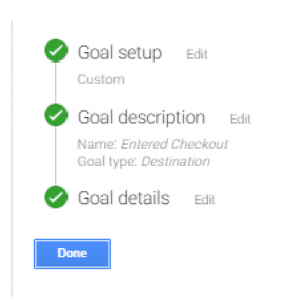 – If your full URL is – co.uk/thank-you
– Enter /thank-you in to the Destination box.
We're keeping it simple and just guiding you through exact URLS, but if you don't have an exact URL (like /thank-you) then you need to visit Google's Regular Expression Guide (to help you find URLs that match a certain description / destination).  Be warned … it's complicated; only attempt Regular Expressions if you consider yourself a pro!
Creating a Funnel in Goal Details
It's simple, just go through the process of completing your goal and add all the different URLS you visited to do so.
There's also a 'Required' button. Select Yes on each URL if the step is required to complete your goal. For instance, if you want users to reach your subscription page through your home page, select 'Yes' so Google Analytics will show you how many visitors who started at your home page to reach your goal.
Your goal completion numbers in your Conversions Report will not be affected by your funnel settings (even if some of the steps you've setup as required) because these steps will only be reported in your funnel report.
7. Last but Not Least …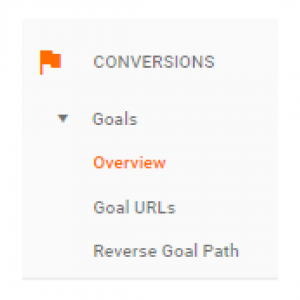 You know now how to set goals with Google Analytics!
On your dashboard on the left, hover over conversions, hover over goals then select overview.
If you set up a funnel, you can see your report by selecting Funnel Visualisation report instead of overview. You'll see insightful information about your user activity and where uses dropped out of completing your conversion. If you see a huge drop at a particular step, you need to address the problem and improve it. If the drop is significant, there could be a technical issue you're not aware of yet.
Contact Different Gravy Digital to Set Goals with Google Analytics
Get in touch for a free, no obligation consultation for more information!
E: contact@differentgravydigital.co.uk
Tel: 0161 706 0004
Why not check out our Digital Marketing Terms Glossary?
About the author: 
Marie Harwood is a Digital Marketing Assistant at Different Gravy Digital, Hale, Cheshire.
Different Gravy Digital are a full service Digital Marketing Agency operating in the Hospitality & Leisure, Financial Services, Legal & Property sectors.  Products and services range from; 3D & 360° Tours, Website Design & Build, Social Media, Video Production, Search Engine Optimisation (SEO), Content Creation, Email Marketing, Online Feedback / Review Systems and Paid Advertising (Google, Bing and Social Media).
Contact Details:
marie@differentgravydigital.co.uk
0161 706 0004
120a Ashley Road, Hale, Altrincham, Cheshire, WA14 2UN