There are so many different ways businesses can conduct keyword research, ranging from free tools with average capabilities to expensive complex solutions. Among the many keyword research tools is Google Keyword Planner.
Accessing Google Keyword Planner
Google Keyword Planner is intended to be used in conjunction with Google AdWords, so it's mainly used for businesses looking to conduct keyword research for their PPC campaigns.
Whilst it's intended to be used with PPC campaigns, you can just use it for research if you want to. But you do need a fully working AdWords account.
Getting to Grips with Google Keyword Planner
Upon opening your planner, you'll be presented with two options
1. Find Keywords
As the name suggests, this tool is for finding keywords. Select this if you want to discover keyword ideas that can help you reach your target audience.
Simply enter a keyword, phrase or URL related to your business and Google Keyword Planner will generate a whole host of other keywords based on your word or phrase.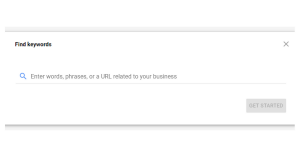 The success of your research does depend on what you enter into the search box. The planner is primarily based on the information you enter, so be thoughtful about what you feature.
What to consider …
Words: relating to your business, so you can access a database of keywords for similar industries
Phrases: around 1-3 keywords, so you can uncover closely related expressions
URL: you might find some good keywords based on your homepage or article
When you're done, click "Get Started" to see your results page.
To make your search more relevant you can …
Enter a location: if you're looking to reach a specific area, like Manchester
Filters: to refine your results based on factors like competition, average monthly searches and organic average position
The date range: handy if you're looking for trending keywords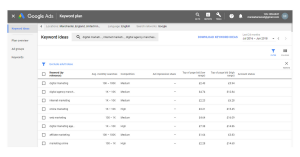 Keyword Planner will show you relevant keywords based on your initial search, including insightful information like average monthly searches, top of page and competition.
2. Get Search Volumes and Forecasts
Opt for this tool if you already have a bunch of keywords and you're looking to find out their search volume. Unlike the Find Keywords tool, this one won't help you discover new keyword ideas.
Enter a list of keywords you're interested in and discover performance forecasts and statistics.
– You'll get data on the keywords you originally entered
– Google Keyword Planner will predict the outcome of your chosen keywords, like how many clicks and impressions you can expect to achieve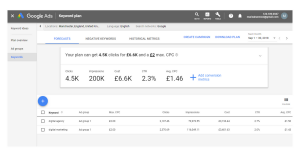 This tool probably won't be relevant unless you're looking to run AdWords campaigns with your targeted keywords, but it's still good to see how they would perform should you use them in the future.
Wrapping it Up
And that's the basics of Google Keyword Planner.
You do need an AdWords account, which is free, but you don't really need to run a campaign to access the Planner. By using the tool, you might be able to discover keywords you haven't even thought of using and expand your potential reach on SERPs.
Keyword research is an ongoing process, and tools like this make it a lot easier to conduct.9
You'll find our other blogs on keywords useful:
Why not check out our Digital Marketing Terms Glossary?
About the author: 
Marie Harwood is a Digital Marketing Assistant at Different Gravy Digital, Hale, Cheshire.
Different Gravy Digital are a full service Digital Marketing Agency operating in the Hospitality & Leisure, Financial Services, Legal & Property sectors.  Products and services range from; 3D & 360° Tours, Website Design & Build, Social Media, Video Production, Search Engine Optimisation (SEO), Content Creation, Email Marketing, Online Feedback / Review Systems and Paid Advertising (Google, Bing and Social Media).
Contact Details:
marie@differentgravydigital.co.uk
0161 706 000
120a Ashley Road, Hale, Altrincham, Cheshire, WA14 2UN