Getting Started with Creating Video Content
Before you dive into producing your own video content, there's a few things you need to consider first. Creating video content is like any other marketing campaign, it takes careful planning and consideration to have a successful delivery.
In this article, we'll be guiding you through step-by-step to launching your first video content.
1. Your Target Audience
As a business you should already know who your target market is, but you also need to know how to create effective video content that will persuade them to convert or make a purchase. Check out our blog post, "Who is Your Business Avatar?" to see how you can accurately meet the needs of your market.
Your target audience may determine where you advertise your video content and where is the best place for it to reach them …
– Social media
– Your website
– Affiliate marketing
– Email campaigns
2. Your Goal
Like any campaign, you need to decide what it is you want to achieve, a few ideas could be …
– Brand awareness
– Lead Generation
– Increased product sales
– Publicity for a new product or service
Basically, what do you want to achieve by producing a video?
3. Your Time Frame
When is your video due? It's always good to have some sort of time-scale, even if it is a rough estimation, so everyone in your team knows where they should be up to. Deadlines help to keep everyone on task and focused.
4. Your Budget
Creating video content can be costly, particularly when animation, graphics and complexity are involved.
Don't have too high aspirations, look at your budget and see how much you can realistically afford.
5. Reviewing Your Success
Think about your goal and how you will measure along the way whether your team are going to meet it or not. Set KPIs, key performance indicators, for everyone involved in creating the video content so you can meet your goal.
6. Creating Video Content
What are you going to create?
You now know how to reach your target audience, you've got your goal, timeline, budget and KPIs, what style of video content are you going to produce?
A. Brand Videos
This style is centred around attracting your target audience …
Simply explain who you are, what you do and what you offer. You can demonstrate your vision and inform your audience what your brand is all about, featuring your products and services.
B. Culture Videos
Culture videos tend be casual, share how passionate you are about what you do so consumers can gain a deeper appreciation for your business.
Culture videos and brand videos have the same style, except brand videos showcase what the company does, and a culture video is more behind the scenes.
C. Live Videos
We've already discussed Facebook live videos and how they can further your relationships with consumers, you can read all about it, "An Introduction to Facebook Live".
Viewers can get a behind the scenes look at your business, share presentations, live Q&As or your attendance at an exciting event.
Live videos limit you to where and when you can create a video, since they're in the moment they do require planning, but the actual content is streamed live for your audience to view. Popular platforms for live videos include Facebook and Instagram live. So, if you don't plan to target your audience via either of the two then live videos might not be for you.
D. Explainer Videos
This style does at it says, it explains something to your market. You might want to explain how a product or service works and inform your audience of why they just have to buy it.
Explainer videos are particularly good if you want to influence the customer buying decision, during your video you should advertise the key selling points and why it's the perfect product or service.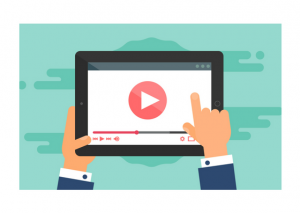 E. How-to Videos
If you want to bring value to your content, education videos are a way to do so. Create engaging tutorials that not only prove your own knowledge but also are a helpful guide to your audience.
Again, you'll be influencing their buying decision since you're providing solutions and answers to a query they may be having with your product / service.
F. Animated Videos
Whilst they may be costly, they can be incredibly rewarding.
They can be light-hearted and a great form to share information about a difficult topic. Animated videos provide strong visuals, they're eye-catching and often fun to watch.
G. Customer Testimonials
Customer testimonials are honest (but obviously choose positive customer testimonials and not negative ones) and can help to build trust between the business and consumer.
Happy customers are your best brand advocates, people buy from people. Urge your past customers speak candidly about you as a business and the products or services they bought.
For example, if you own a restaurant you could ask previous customers to describe their experience in your restaurant, what they ordered and their views of it.
Your Key Takeaway
Creating video content that not only meets your marketing and business goals but will also engage your audience.
No matter what style of video content you choose to adopt, you need to clearly promote your call-to-action, CTA. Behind every piece of content is a purpose, which needs to be highlighted through the entire video with a precise CTA urging your audience to act.
Why not check out our Digital Marketing Terms Glossary?
About the author: 
Marie Harwood is a Digital Marketing Assistant at Different Gravy Digital, Hale, Cheshire.
Different Gravy Digital are a full service Digital Marketing Agency operating in the Hospitality & Leisure, Financial Services, Legal & Property sectors.  Products and services range from; 3D & 360° Tours, Website Design & Build, Social Media, Video Production, Search Engine Optimisation (SEO), Content Creation, Email Marketing, Online Feedback / Review Systems and Paid Advertising (Google, Bing and Social Media).
Contact Details:
marie@differentgravydigital.co.uk
0161 706 000
120a Ashley Road, Hale, Altrincham, Cheshire, WA14 2UN