Your Guide to Creating Title Tags
Powerful SEO is a mix of different features, one of which is your title tags. If you're familiar with SEO, you'll know that title tags are important to fully optimise your web pages.
In today's article, we will be covering:
1. What is a Title Tag?
2. How to Write Your Own Title Tags
3. Your Title Tag Checklist
1. What's a Title Tag?
It's a HTML element that indicates the title of a web page.
Title Tags are displayed on SERPs, search engine result pages, as a clickable headline.
Like the title of a book, it's supposed to be a brief description of the page's content and should tell users what they can expect to see after clicking through to the page.
In search results it will look like this: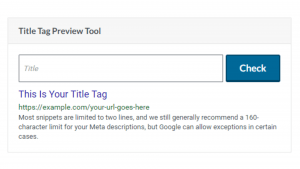 2. How to Write Your Own Title Tags
Sometimes your headline and title tag will be the same – which is fine – but sometimes they are different.
Take a look at an example:
Headline: Your Simple 10 Step Guide to A Successful Email Marketing Campaign
Title Tag: How to Build an Email Marketing Campaign
A. Keep is Short
The headline (the title you see once you've clicked through to the content) goes in more detail, usually because it would be too long to use as the title tag. The tag still clearly explains what the web page is about – but it skips the descriptive detail.
Your title tags should be short (around 50 – 60 characters) since they're easier to read and for search engines to crawl. If your title tag is too long, it'll be cut of on SERPs. Both readers and search engines should be able to read your full title tag, so they have an understanding of what the content entails.
B. Feature Your Keyword
Remember, your title tag is an SEO element and counts towards your ranking on  SERPs.
Avoid keyword stuffing – your focus keyword should seamlessly fit into your title tag and not just slapped onto the end.
Here are the other places your keyword should feature: Where to Place Keywords For Website Optimisation
C. Persuade Users to Click on Your Link
While there's not a lot of room to be imaginative with your title tags, they can't be boring. The aim is to get as many relevant visitors as possible to your content. So, ensure the title tag is engaging, attractive and encouraging.
3. Your Title Tag Checklist
– Is the length optimised? Between 50 – 60 characters?
– Does your title tag accurately describe the content?
– Does it include relevant keywords?
– Is your title tag unique and not a duplicate?
– Will it attract your target audience?
If you're looking to accurately optimise your title tags for SEO, using this article is an excellent place to start.
Do you have any tips to share? Let us know in the comments section below.