What to Consider Before You Choose a Domain Name
How much thought do you need to put in to choose a domain name? As long as it directs customers to your site, does it matter?
Whilst it may seem like a small thing, your domain name is a key element to your website.
Your URL is what users will see before the content in your website. It's your first impression, a well-thought out domain name could contribute to the traffic to your website, whereas a bad domain could put off customers from proceeding to your website.
They require a lot more thought than slapping a few words in between www. and .com.
Our 10 Tips to Choose a Domain Name
1. Make little room for error
Just think of some of the most successful sites in the world; Google, Facebook, Twitter, Bing.
Can you notice the similarity?
They're domain names are simple, easy to type and not too difficult to spell.
For obvious reasons, don't make up your own spelling for words. Don't replace a number for a letter. G00gl3 and F4ceb00k, don't look as clear as the standard Google and Facebook, do they?
It won't be good for business if potential clients can't reach your website due to misspelling.
Before choosing a domain name, perhaps ask some friends or colleagues to spell it?  If the majority spell it incorrectly, you must assume the majority of your customers would too.
2. Don't get tongue tied
Your domain name should roll of the tips of your fingers, but it also needs to roll of the tongue too.
Visitors can share your website by word of mouth, if your discussing your business with a potential client, you want them to be able to remember the name of your website without getting confused.
If you want to increase your brand awareness, your domain name needs to be passed on easily. What if a misinterpretation of your domain name led them to a completely different website? Nightmare.
Test how easy your domain name is to pronounce by the same method I suggested earlier. Ask 10 friends or colleagues to repeat your domain name back to you. If you see a few confused faces, or a few tongues being tied, its time to go back to the drawing board.
3. Keep it snappy
Again, think of global, successful businesses that most businesses will aspire to be like. Google, Facebook, Twitter and Bing are all short names and it works perfectly for them. If it's too long and complex, your website is at high risk of being unreachable.
Id recommend, maybe, 3 words at maximum? Or at a push perhaps 4 short words? That's plenty to play with – make your domain name memorable and simple.
4. Avoid hyphens
People may forget or misplace the dash.
If you feel you need a dash in your domain name, perhaps consider registering the different variations to be safe. At least then, if a customer forgets to include it, or puts it in the wrong place, they will still be able to reach your site.
But numbers can be misunderstood too. Say your domain is www.domain6.com – how are your customers supposed to know if 6 is numerical (six) or spelled out (six)?
Again, perhaps buy both domains.
5. Protect your brand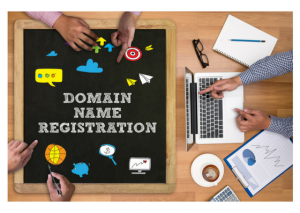 Purchase domain extensions and misspelled versions of your domain name, in case competitors beat you to it.
Take some time to do some research before you choose a domain name. Likewise, you don't want to pick a domain name and come to realise it's like someone else's, or it has been copyrighted or trademarked by another company.
Save your pennies and don't get yourself in a giant expensive legal mess.There's bound to be much better things to spend your money on.
6. Target your locals
Whilst not necessary, you could include you're your location in your domain name so local customers can find you, and more importantly remember you.
This is more the case for small businesses with a close target market.
If you are, or you're hoping to have, a global business, it's wise to buy domains with and without your local area included.
I wouldn't be too refined – if you're a small town, use your closest big city? Like; London, Manchester, Liverpool. You still want your slightly wider target market to feel you're accessible.
7. Think of your future
Is your chosen domain name one you will want in 5 years' time, or more?
Think long-term.
Assuming you want your business to grow, is your domain name too refined? Perhaps for now, you only offer hair dressing services. But what if you want to be an all-rounded beauty spa? Offering additional services as well as hairdressing, like massage, facials and spray tans?
If a customer recommends your services to a friend for a facial, and they type in www.wearehairdressers.com – are they going to know your business has expanded? Will they think their friend has recommended the wrong business? Are you prepared to lose potential clients because your domain name is too specific?
8. Check Social Media
As I've discussed in my blog, "5 Simple Social Tips", your business should actively be using social media as a part of their digital marketing strategy.
Check if your name is available on social media sites. For example, if your domain name is, www.wearehairdressers.com, can you also use the title We Are Hairdressers on your Social Media Pages?
It makes sense to use the same name for your domain and social networks. It builds familiarity, consistency and it makes it a lot easier for people to find you.
9. Use keywords
If possible, try to use keywords that describe what your business has to offer.
For example, if you are a hairdressing business, you may want to choose a domain name like www.wearehairdressers.com or www.hairdressinginlondom.com
You could be a bit more original than my basic examples but including your keywords will help improve your ranking in SERPs. Additionally, it just makes more sense to customers.
10. Pick the appropriate domain name extension
Extensions are just a simpler way or referring to suffixes. Like .com .net that are added at the end of your web address.
.com is the most common, and I think more people assume the extension is .com anyway. But, there a range of different ones you could use that work well for different businesses. .com is so popular, you may struggle to get one for your domain.
 Some have recommendable uses, like the following.
– .co – is mostly used for a company, but it can stand for commerce and community
– .me – is great for a personal website, like a blog, or a link to your CV
– .net – is for technical purposes, like internet infrastructure sites.
– .org – is usually used for organisations that isn't commercial or is a charity or non-profitable
– .info – if your site is all about information, perhaps a guide to a city?
– .biz – is an abbreviation for business
They're only guidelines, there's no written rule for which extensions you can opt for.
Perhaps register for .com and more specific extensions, so if people do assume it's .com, they'll still be able to reach your site.
The Bottom Line
As you can see, when come to choose a domain name, there's a lot you need to consider. So, take some time to think, ask for a 2nd, 3rd and 4th opinion and use our top tips to get the perfect domain name.
About the author: 
Marie Harwood is a Digital Marketing Assistant at Different Gravy Digital, Hale, Cheshire.
Different Gravy Digital are a full service Digital Marketing Agency operating in the Hospitality & Leisure, Financial Services, Legal & Property sectors.  Products and services range from; 3D & 360° Tours, Website Design & Build, Social Media, Video Production, Search Engine Optimisation (SEO), Content Creation, Email Marketing, Online Feedback / Review Systems and Paid Advertising (Google, Bing and Social Media).
Contact Details:
marie@differentgravydigital.co.uk
0161 706 0004
120a Ashley Road, Hale, Altrincham, Cheshire, WA14 2UN