No matter what your business may be – your customers are online. Based on 2017 statistics, there are 2.46 billion social media users and this is due to increase to an estimated 3.02 billion by 2019. Do you want your business to grow quickly? Do you want a wide target audience at your fingertips? Social media will solidify, motivate and strengthen your existing brand. Your company's voice will be heard and shared across the world to unlock new sales opportunities.
Our 5 Simple Social Tips
1. Choosing the best social media platform/s
First things first, deciding which platform will be most beneficial to your business. This will be different for every brand. Typically, the most popular platforms are Facebook, Instagram & Twitter but you could also use YouTube, Pinterest, LinkedIn and Snapchat. Facebook and Twitter are good options to advertise for most businesses – 64% of Twitter users and 51% of Facebook users are more li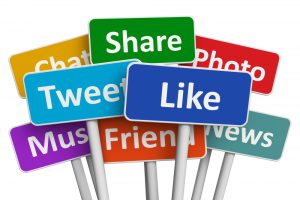 kely to buy the products of brands they follow online. No matter what platform/s you choose, they will all help to:
Increase the exposure of your brand
Increase traffic to your website / blog
Build a loyal following
2. Creating goals
Like anything in life, the success of your social media accounts will be determined by the goals you set.
One really simple way to do this would be to follow the well-known acronym S.M.A.R.T to create your goal…
Specific – wanting to build a loyal following is great – but how many more
followers do you want to have gained by a certain date? 20 more followers in one month? 100? 500?
Measurable– it's important to know your progress and whether your strategy is generating a return on investment (ROI). For this you must record your start point
Attainable – it's great to be ambitious, but is your goal realistic?
Relevant – your goal must be related to your business's success
Timely – implementing deadlines will keep you accountable and will help motivate you to get the job done
3. Maintaining your presence on social media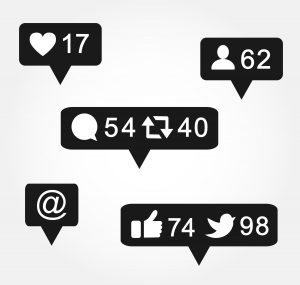 Signing up for a trendy social network for the sake of having an account is pointless. To ensure your account is relevant, it needs to be up-to-date with new, relevant content on a regular basis. It's also important to vary your post types as nobody wants to see the same thing all the time. Posting offers, updates, articles or just news that could interest your followers will increase traffic to your website. In fact, social media drives 31.24% of overall traffic to websites. If social media isn't a part of your marketing strategy, you're giving your competitors a golden ticket.
4. Creating relationships with consumers
Your audience is online, if you want to be relevant and profit from them then you need to be online too. The best thing about social media is that it gives the opportunity for your brand to have a personality. Although Twitter only allows short but sweet posts, it's a chance to show off your company's distinctive voice. Instead of thoughtlessly publishing company messages, engaging with consumers will show your brand isn't run by robots. It's worth knowing 71% of consumers who have a good social media service experience with a brand are more likely to recommend it to others.
Here's just a few ways to connect with your audience
Replying promptly to customer questions
Using trending hashtags to participate in world discussions
Being collective of your audience with pronouns like "we" and "you"
Re-tweeting, liking, favouriting or sharing posts to show you appreciate your consumer's comments, opinions & views
5. Instructing your customers what to do
Call to action (CTA) – The part of a marketing message that attempts to persuade a person to perform a desired action.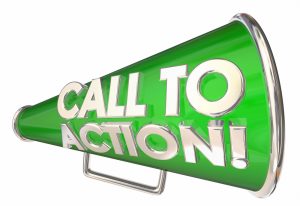 You've set up your social media accounts and you're now posting, great, but why? What's the purpose? Regularly posting content for online presence isn't a bad idea, but what's the point? A line of text that prompts consumers to literally 'take action' will give your post's a purpose. If you want a consumer to click on a link – tell them to click on the link. Want them to share your post for increased awareness– instruct them to do so. Whenever you post anything, think what is the purpose and what is the desired outcome!
Social media marketing is essential because it will humanize your brand. If done correctly, it will prove your brand is active, alert and accessible to consumers. It's not rocket science… some clients decide to run it themselves. But to run effective social media marketing, you must be consistent, posts need to be planned for the next few weeks and you need to regularly measure what posts are effective and which aren't. However, is this the best use of your time? Would your time be better spent elsewhere in the business?
Check out https://differentgravydigital.co.uk/services/social-media/ to read what we can do to manage your social media.
If you would like a no obligation review, please contact either mg@differentgravydigital.co.uk or call 0161 706 0004. We're more than happy to make useful recommendations catered towards your business!
About the author:
Marie Harwood is a Digital Marketing Assistant at Different Gravy Digital, Hale, Cheshire.
Different Gravy Digital are a full service Digital Marketing Agency operating in the Hospitality & Leisure, Financial Services, Legal & Property sectors. Products and services range from; 3D & 360° Tours, Website Design & Build, Social Media, Video Production, Search Engine Optimisation (SEO), Content Creation, Email Marketing, Online Feedback / Review Systems and Paid Advertising (Google, Bing and Social Media).
Contact Details:
marie@differentgravydigital.co.uk
0161 706 0004
120a Ashley Road, Hale, Altrincham, Cheshire, WA14 2UN