How You Can Find The Best Time to Post on Social Media
There are countless research studies that detail the best time to post on social media. While they may be accurate – there often based on their own business or general industries. No business is the same. To truly discover the best time for YOU to post on social media, do your own research and gather your own insightful data.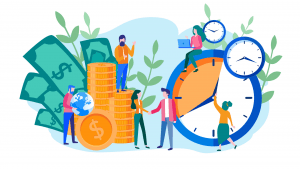 To deliver the best experience to your followers, it's important you publish posts based on their personalised behaviour. Going with the best time to post based on a random study can negatively affect your marketing campaigns rather than aid them.
Here's what you should do instead.
1. Make an Informed Guess
You don't have to use statistics and in-depth analysis to know when to post. Sometimes all you need is an educated guess and common sense.
Think about it and be logical, we have some possibilities:
– During commuting hours: 7:30 / 9:00am and 4:00pm / 6:00pm
– Work lunch breaks: 11:30am / 1:30 pm
– Evenings: 7:30pm / 10:00pm
What time do your target audience wake up at the weekend? If you're targeting teenagers, for example, then maybe late morning would be a good time to post. If you're targeting families, then early morning might be when they wake up.
Obviously, every target audience is different, the above are just a few general examples and they don't necessarily apply to your target market.
2. Decide on a Posting Schedule
Once you have a rough idea, test your times.
You can schedule your posts using tools like Buffer and Hootsuite to set your posts to be published at personalised times.
But which social media scheduling tool is better? Find out what we think: Social Management Head-to-Head: Buffer VS Hootsuite
3. Schedule Post for 3 /4 Weeks
Experiment with different times over the next few weeks and measure your reach and engagement. Both Buffer and Hootsuite have insightful analytics available.
You can try different times for each week. Or, you can have set times for the 3 /4 weeks.
Now, all you need to do is see how it goes. What posts are delivering you results? What time were they published?
Monitor and analyse your results and if you're not satisfied then test different times. Good luck!