How Augmented Reality Ads Could Change Marketing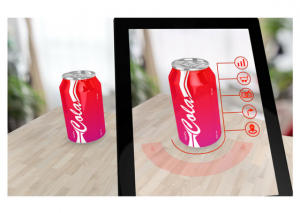 Facebook have recently announced they will be testing augmented reality (AR) ads in News Feeds. If you haven't heard about Facebook's exciting new update, you can catch up, "Facebook is Testing Augmented Reality Ads".
Augmented reality is certainly set to be a popular trend in marketing, with big brands like Sephora and Starbucks leading the way. There's no denying that augmented reality is a fantastic development in technology and it offers the opportunity for businesses to showcase their products in a different way. It allows consumers to give products a bit of 'try on' as they would in a shop to aid with their buying decision.
But before businesses revamp their marketing campaigns and save a large part of their budget for the new ad type, we thought it was important to discuss the strengths and weaknesses of augmented reality for businesses.
What Makes Augmented Reality Ads to Good?
They Aid Product Discovery
Consumers can see what a product (like sunglasses) would look like on their face, just like they would in a physical store. It's an advancement in online shopping that gives consumers the same experience as they would in-store.
Product Discovery
We think it's likely sales will increase with augmented reality ads on News Feeds. Since consumers have, in a way, 'tried the item on for size'.
Interactive Experience
One way to obtain consumer loyalty is to make memorable experiences. Since augmented reality is relatively new, it's exciting for consumers to test it out. The interaction is personal and catered to the specific consumers, which should push brand loyalty. AR allows us to connect with a business
and their products in new ways.
Repeat Use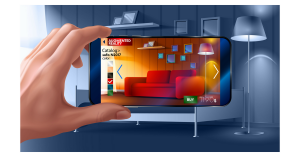 Not only could augmented reality ads promotion brand loyalty and connection, but it could also push repeat engagement.
The ads will be fun, kind of like a game, where consumers can test different products on their own image. If consumers find it useful and interesting (which hopefully they will) this will encourage repeat engagements, which exposes the consumer to the brand again and again. We flick through magazines and never read them again, consequently ads featured in there are likely to be only looked at once, but augmented reality ads are something consumers can repeatedly do.
Is There a Downside to Augmented Reality Ads?
It's Not the Real Thing
Let's face it, no matter how good technology gets, nothing will beat physically seeing a product and trying it out in person. Whilst augmented reality allows us to see how well a pair of sunglasses will suit us based on an image, there's still the possibility they will fit and look differently when actually on your head.
Who is Your Audience?
It's vital marketers never forget who their target audience is since every marketing campaign should be based around them. Not everyone is a fan of technology, stereotypically older audiences, so this style of ad wouldn't suit them.
With this to consider, businesses should first conduct consumer research to make an informed decision whether Facebook's new ad type will cater to their target market.
The Bottom Line
Of course, Facebook's augmented reality ads are brilliant, but it's important before you consider your own industry and how well suited your audience and products are to AR.
What do you think? Will Facebook be able to replicate the in-store shopping experience?
Why not check out our Digital Marketing Terms Glossary?
About the author:
Marie Harwood is a Digital Marketing Assistant at Different Gravy Digital, Hale, Cheshire.
Different Gravy Digital are a full service Digital Marketing Agency operating in the Hospitality & Leisure, Financial Services, Legal & Property sectors. Products and services range from; 3D & 360° Tours, Website Design & Build, Social Media, Video Production, Search Engine Optimisation (SEO), Content Creation, Email Marketing, Online Feedback / Review Systems and Paid Advertising (Google, Bing and Social Media).
Contact Details:
marie@differentgravydigital.co.uk
0161 706 0004
120a Ashley Road, Hale, Altrincham, Cheshire, WA14 2UN