Keep Your Eyes Peeled for Augmented Reality Ads on Facebook …
Facebook is offering businesses the possibility to advertise their products and services with a new ad type. The company will be testing augmented reality (AR) ads in news feeds, which will see consumers enjoy a new immersive experience.
What is Augmented Reality?
Includes superimposing computer generated images on-top of the 'real' video or camera image.
At first glance the ads will seem like the usual ones that appear regularly on our news feeds, but they will offer a "try it on" option, which is the augmented reality feature. Facebook users will be able to virtually try on different products: like make-up, fashion accessories and sunglasses.
The tool will be available on mobile because, according to Facebook, this is where consumers will expect to see the same visual representation as they would in a store window.
"Michael Kors was the first brand to test AR ads in News Feed, enabling people to try on a pair of sunglasses and make a purchase based on their experience. Later this summer, we will begin testing AR ads with some additional advertisers such as Sephora and others in fashion accessories, cosmetics, furniture, gaming and entertainment, and we plan to roll out AR ads more broadly to other industries over the course of the year."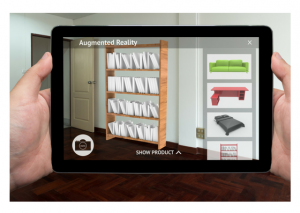 Facebook have acknowledged it will at first be challenging for businesses to create mobile-first video ads. So, they've also launched a Video Creation Kit purposed to help us create the new ad type. The Video Creation Kit will enable businesses to upload images, add overlays and logos to swiftly build mobile-first video ads. It's currently in testing, so we can expect it to roll out in August for ads on Facebook, Instagram, Messenger and Audience Network.
"We'd seen a growing need for a solution that could help us quickly and efficiently scale our video efforts on Facebook. Using the Video Creation Kit we were able to upload existing static assets and turn them into mobile-optimized videos through the use of Facebook's ready-to-use templates. Using the videos created from this toolkit has resulted in a 77% increase in performance compared to the original static assets that ran on Facebook." – Sam Wheatley, Direct of Growth Marketing, Noom.
What do you think? Will Facebook be able to replicate the in-store shopping experience?
We'll be sharing our thoughts in tomorrow's blog post.
Why not check out our Digital Marketing Terms Glossary?
About the author: 
Marie Harwood is a Digital Marketing Assistant at Different Gravy Digital, Hale, Cheshire.
Different Gravy Digital are a full service Digital Marketing Agency operating in the Hospitality & Leisure, Financial Services, Legal & Property sectors.  Products and services range from; 3D & 360° Tours, Website Design & Build, Social Media, Video Production, Search Engine Optimisation (SEO), Content Creation, Email Marketing, Online Feedback / Review Systems and Paid Advertising (Google, Bing and Social Media).
Contact Details:
marie@differentgravydigital.co.uk
0161 706 0004
120a Ashley Road, Hale, Altrincham, Cheshire, WA14 2UN