Benefits of Advertising on Pinterest
Most people will have heard of Pinterest, but businesses are often cautious of investing in it, but you really shouldn't be!
For those who are unaware, Pinterest is a social media website where users can share images and videos to other users, Pinners. Uploaded images (Pins), can be saved in to either a public or personal pin board, that can be followed, shared and customers.
To fully understand the benefits of advertising on Pinterest, it's vital to highlight the most common inaccuracies.
The Misconceptions of Pinterest
– My target audience won't be on Pinterest
– Pinterest is only used to pin food recipes, home décor etc
– Pinterest is only for women
– Advertising on Pinterest won't be worth my while
Pinterest is perceived as some 'wishy-washy' social network.
But that couldn't be more wrong.
It's growing in popularity, but there are still lots of people who don't take the time to understand the network and dismiss the benefits of advertising on Pinterest. Despite the common misconceptions, Pinterest is worth investing your valuable time and money in to.
Get Your Facts Straight
The Benefits of Advertising on Pinterest are hard to ignore. These statistics may be an eye opener for you …
– 93% of Pinners use Pinterest to plan purchases
– 88% of Pinners find new ideas on Pinterest
– Everyday nearly 2 million people Pin product rich Pins
– 84% of women and 50% of men on Pinterest stay active users
The Unnoticed of Benefits of Advertising on Pinterest
It's Works Like a Search Engine
Except, Pinners click on images instead of words to be directed to a website's page.
95% of marketers say visual content is more effective than text, so chances are if you advertise on Pinterest the visual appeal of your posts should help to generate more leads.

But, it's down to you what you do with leads. Pinterest can only help so much. You need to ensure the page Pinners are directed to is attractive enough to turn Pinterest's lead into your own conversions.
If you want your Pins to work like a search engine, you need to choose the correct form and campaign for your Pin. Read all about the different styles of Pins and campaigns in my blog, 'Welcome to Pinterest's Promoted Pins'.
Pinterest's Analytics Dashboard
It's quick and easy to see how well your ads are performing. Pinterest's analytics will allow you to see the number of impressions and views your content has generated, in addition to numbers trending over time. Keep track of how Pinners interact with your content and monitor the impressions, re-pins, clicks and likes your content receives.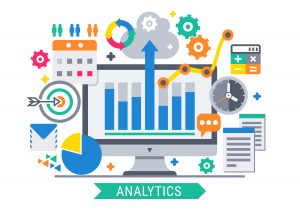 Discover your follower's demographic and any common interests they may have, then, use the data to understand what your audience's needs and wants are. If your company sells sportswear and sporting equipment, your followers are likely to be involved in fitness and healthy living. Analyse their common interest's data and see if you can post useful information or offers catered towards your target market. Using Pinterest's analytics dashboard for guidance, start to build up your following and reputation – your amount of leads should increase, boosting your conversions and return-of-investment, ROI.
Take advantage of the valuable data at your finger tips and use them to make informed business decisions in the future.
Your Promoted Pins will be Discrete
Ads can be annoying, no matter how appealing or eye-catching they are. Not everybody finds it helpful to have ads popping up all over the place on Facebook, Instagram, YouTube and so on.
Some could think otherwise but I think some ads on other sites actually look out of place. Banners can sometimes just be an unwanted distraction for users.
Take YouTube for example, users may just want to watch a video and have no interest in your ad placed in the corner. But, Pinterest has always made an effort to ensure Promoted Pins are transparent and relevant to the site. They just blend in. Ads are integrated into Pinterest's format and they don't stand out from the crowd of un-promoted Pins, and I think it works brilliantly.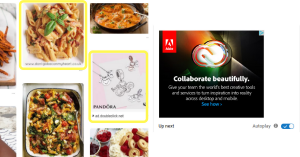 Just look at the example above. Pinterest's Promoted Pins, which I've highlighted in yellow, blend in. Whereas, the ad taken from YouTube, stands alone and are obviously an advertisement. I'm not dismissing the benefits of your ad being noticeably visible – there's no reason brands can't do both anyway.
Whether you're a big business with a large, loyal following, a start-up business or a small business, Pinterest should certainly be a part of your marketing and advertising strategy. The benefits of advertising on Pinterest are undeniable, but if you don't feel you have the time to run effective campaigns, just contact Different Gravy Digital to assist with any of your Digital Marketing needs.
0161 706 0004
mg@differentgravydigital.co.uk
About the author:
Marie Harwood is a Digital Marketing Assistant at Different Gravy Digital, Hale, Cheshire.
Different Gravy Digital are a full service Digital Marketing Agency operating in the Hospitality & Leisure, Financial Services, Legal & Property sectors. Products and services range from; 3D & 360° Tours, Website Design & Build, Social Media, Video Production, Search Engine Optimisation (SEO), Content Creation, Email Marketing, Online Feedback / Review Systems and Paid Advertising (Google, Bing and Social Media).
Contact Details: