What is Pinterest?
For those of you who are unfamiliar, Pinterest is a social media website that allows users, Pinners, to share and post images and videos. Uploaded images are called Pins, they can be saved into personal or public pin boards which can be customised, followed and shared. Users can re pin content posted by other Pinners.
Pins that appear on Pinners' Home Page can be based on their interests, recent activity or followings.
Pinterest isn't only used for new hair style inspiration or ideas for decorating a Birthday cake, there's much more to it than that. Pinterest is an incredibly influential platform for buying decisions and discovering new ideas.
Pinterest may not be as popular as Facebook, Twitter and Instagram, but it still attracts 200 million users every month. Most users are female, but 40% of new signups are men.
If Pinterest's Promoted Pins aren't a part of your marketing strategy, you may be missing out on a key component to successfully reaching your entire target audience. Take a look at the statistics below –
61% of users (Pinners) discover new brands or products from Pinterest's Promoted Pins
50% of Pinners make a purchase after a Promoted Pin
Pinterest is more influential than Instagram
How Can My Business Use Pinterest?
Businesses can post their products and services on Pinterest to reach more of their target market. It can be used as an advertising platform, where Promoted Pins can generate leads that may turn in to conversions.
Think of Pinterest as a search engine, businesses can promote what they offer through visual imagery.
The Different Styles of Pinterest' Promoted Pins
1. Promoted Pins
A Promoted Pin is just a Pin that you pay to promote to an expanded audience. It's the same as a regular pin, except your post will reach more Pinners and the word "promoted" will be at the bottom of your pin.
Although, once your pin has been saved by a Pinner, the "promoted" label will be removed.
You'll be saving money – if a Pinner decides to add you pin to their Pinterest Board or shares them on the internet, the extra traffic won't cost you a penny.
Say your ad reaches 100 Pinners, and 50 of them share your Pin on their Pinterest board, whoever your Pin manages to reach, has technically been reached organically since you haven't paid Pinners to raise awareness of your brand / pin. I certainly wouldn't detest reaching a wide audience for free …
2. Promoted Video Pins
It does exactly what is says on the tin – it's just a Promoted Pin that contains a video.
Your Pin could appear on newsfeeds, search results and in the suggestions section, "More Like This".
3. One-tap Pins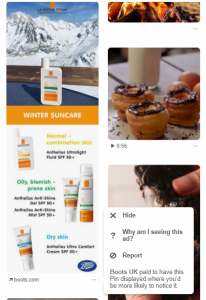 Standard Pins, when tapped on, just take users for a close-up and extra details. A One-tap Pin is pretty much a sponsored link. You can direct Pinners straight to your website or Landing Page. Take them to a page to find out more or even purchase your product directly. I recently published 'How to Make Your Landing Page Work', here you'll find some helpful tips to make the most out of your leads and turn them in to conversions.
Quick Tips – Give a clear call-to-action, CTA, the purpose of your Pin is to drive Pinners to your page.
I think if you're looking for users to buy your product right away – One-tap Pins could be the ad of choice for your brand. It works like a Sponsored Link on Facebook, so you can just transfer your skills straight to Pinterest.
If you've got a small budget, I'd consider carefully before opting for this style. Its cost-per-click, CPC, and some users could be expecting to see a close-up of your pin when they click on it. They may be surprised to be taken straight to your website, so, just be mindful that you may be paying for click-throughs when Pinners don't want to visit your site. They may just exit straight away without even a glance at your page.
Promoted App Pins
This style allows Pinners to install your app without leaving Pinterest. It's much easier than going to their app store – Pinners need only click the 'install' button within your ad.
If you haven't got an app to promote, obviously this style isn't suited for your business.
But it could be something to think about, perhaps an app could boost your conversions and profits?
What's the Purpose of Your Promoted Pin?
You've got 5 different ad campaign styles to choose from, each with their own goal!
1. Traffic to Your Website Campaign
Pinners will be sent directly to your website straight from your Pinterest ad, you pay-per-click.
Like I mentioned earlier, not every Pinner will be wanting to go straight to a website. They could just be browsing Pinterest and are only looking at your Pin for a closer look. Clicks could be costly and you're achieving nothing from it.
On the other hand, is there a better way to turn your leads in to conversions than with a direct link straight to your website?
2. Build Brand Awareness Campaign
Pinterest will share your Pin to users who may not have come across your brand, don't know what you do, have shown no interest in your business. It's all about making a good impression, giving Pinners a 'taster' of what your brand is about, you only pay for every 1,000 impressions.
In my opinion, this style would be good for a new business or a charity campaign? If you want to get your brand 'out there', your best option is to grow your brand's online presence. If a business is running a campaign for a homeless charity, your Pin could inform users of homelessness statistics and what they could do to help?
3. Boost Engagement Campaign
If you want to encourage interaction from Pinners with your content, Engagement campaigns are a brilliant way to do so. The purpose is to encourage people to click or save your Promoted Pin.
I think this style would work well if you want Pinners to be inspired by your content. It could be effective for an Interior Design Company, if you want to give Pinners a few design tips or samples to show off your previous work or knowledge. Whenever a Pinner goes for a close-up of your Pin, saves or clicks on it, you'll pay for that engagement.
4. Increase Your App Installs Campaign
You can push downloads for your app. You've got the choice of pay-by-install or pay-per-click, which ever you think will work best for your brand. If you opt for pay-by-install, Pinterest's algorithm will combine your daily bid (using your targeting costs) and a prediction of the possibility of a Pinner installing. The pay-per-click option is just the same as your standard cost-per-click campaign.
5. Build Brand Awareness by Video Campaign
They're just the same as Build Brand Awareness Campaigns, except with a Promoted Video Pin, the cost is the same – you pay per 1,000 impressions.
Conclusion
There's a lot more to Pinterest's Promoted Pins than meets the eye. You've got so much opportunity for creativity, there's bound to be a form of Promoted Pin that works perfectly for your brand. It's a growing platform, and I suspect in the future it could become as successful as Facebook for online advertising.
About the author:
Marie Harwood is a Digital Marketing Assistant at Different Gravy Digital, Hale, Cheshire.
Different Gravy Digital are a full service Digital Marketing Agency operating in the Hospitality & Leisure, Financial Services, Legal & Property sectors. Products and services range from; 3D & 360° Tours, Website Design & Build, Social Media, Video Production, Search Engine Optimisation (SEO), Content Creation, Email Marketing, Online Feedback / Review Systems and Paid Advertising (Google, Bing and Social Media).
Contact Details:
marie@differentgravydigital.co.uk
0161 706 0004
120a Ashley Road, Hale, Altrincham, Cheshire, WA14 2UN