Why YouTube Video Ads?
For marketers and business owners, YouTube Video Ads are a huge opportunity to engage with their target market.
If you want your brand to be seen, YouTube Video Ads are a proven way to increase your discoverability.
– YouTube has over a billion users, with more than 500 million hours of videos watched every day.

– They're the second biggest search engine, after Google, of course.
– 1/3 of online activity is spent watching video
"Advertisers reach their target audiences far more efficiently by adding YouTube to their media plans … especially the hard-to-reach 16- to 34-year-olds, where cost-per-reach point is optimized when 24% of your TV budget is allocated to YouTube." – Eileen Naughton, Vice President People Operations, Google
How to Advertise on YouTube
It can be easy to get a bit confused with YouTube Paid Ads, since there are a few choices. But its just about choosing what will work best for your brand.
True View Video Ads
You've got two options
A. In-Stream Video Ads
Your ad would appear before, during or after a video that a viewer clicked on to watch.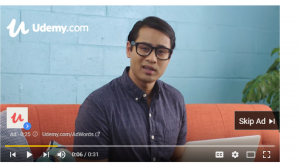 Users only to need watch 5 seconds of your video before they have the option to skip. Whilst 5 seconds may not seem a long time, there's plenty you could include to captivate your audience and deter them from clicking 'Skip Ad'.
You, the advertiser, only pay YouTube when your ad has triggered some sort of interaction. If viewers watch 30 seconds of your ad / click on your ad to visit your website / click on a call-to-action, CTA, or banner, then it's time to pay-up as YouTube have effectively helped you find a potential customer.
B. In-Display Video Ads
Are sponsored suggested videos. Your ad could appear on search results when relevant to the user, YouTube's homepage and the section for related videos.
If you think this kind of ad will work best for your brand, you will need to choose a thumbnail image of your video and around 3 lines of text persuading viewers to click on your video to watch it.
In-Display Video Ads work like Google and Bing's sponsored links, you only pay when viewers click your thumbnail to watch your ad!
Bumper Ads
User's cant skip Bumper Ads since there only up to 6 seconds long. I think they're the best kind of ads, short, snappy and straight to the point. It's pointless beating around the bush, get your message across and give your audience a call-to-action (CTA).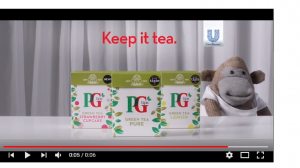 "Bumpers are a cost-effective way to reach your target audience, ensure your message is seen and heard. (with nearly all YouTube ads viewable and audible), and keep you top of mind." – YouTube
I'd consider carefully whether bumper ads are suited to your business, they could potentially annoy viewers since they have no choice but to watch your ad. But, I suppose, they have no choice but to wait until they can skip your ad if it's in-stream.
Targeting the Right Audience
Marketing campaigns HAVE to be targeted, no matter what kind it is. If you aren't reaching the right audience with the right message, you may as well not bother…
But YouTube help you out.
They have a variety of options, so you can make the most of their platform!
Demographic targeting – a traditional filters is sometimes all you need, you can refine age, gender and so on…
Interest targeting – if your target market has specific interests, this is the filter for you
Topics – you can choose your ads to appear on topics of your choosing
Affinity audiences – it's just a more specific type of interest targeting. Your brand can target viewers who have shown an interest in topics and brands like yours. You probably get targeted based on Affinity daily – think about what ads appear on your Facebook news feed, for instance, they're usually ads you've either searched for previously or ones similar
Video remarketing – you can reach viewers who already have already had an interaction with your previous videos
Keyword targeting – just like Bing and Google, you can choose your ad to appear based on relevant keywords
Watch This Space
Video content is still relatively new to the marketing world. It's not, yet, as popular as Google AdWords, but it wouldn't surprise me if the tables soon turn.
Understanding YouTube Video Ads can be a lot to take in initially. Don't let the amount of choice put you off.
Let your creativity and originality shine through.
Your ads might be unsuccessful to begin with, but practice makes perfect.
About the author:  
Marie Harwood is a Digital Marketing Assistant at Different Gravy Digital, Hale, Cheshire.
Different Gravy Digital are a full service Digital Marketing Agency operating in the Hospitality & Leisure, Financial Services, Legal & Property sectors.  Products and services range from; 3D & 360° Tours, Website Design & Build, Social Media, Video Production, Search Engine Optimisation (SEO), Content Creation, Email Marketing, Online Feedback / Review Systems and Paid Advertising (Google, Bing and Social Media).
Contact Details:
marie@differentgravydigital.co.uk
0161 706 0004
120a Ashley Road, Hale, Altrincham, Cheshire, WA14 2UN