Beginner's Guide to Twitter Analytics
Twitter analytics helps businesses to understand how the content they share is growing their business. Whether you're building a social media strategy or planning a new campaign, Twitter analytics aids you in discovering new ideas, understanding what's working and helping you to polish your method.
You could use brilliant social media management tools like Buffer and Hootsuite to uncover insights about your Twitter account, but there are statistics and metrics within Twitter's platform.
Where to Find Twitter Analytics
They're readily available within your activity dashboard. Learn more about your tweets, how to further engage with your audience and much more.
Simply login to https://analytics.twitter.com to access your account.
In this article, we will be highlighting specific parts of your dashboard that can enhance your future marketing campaigns.
1. Your 28 Day Summary
On your home page, you'll see a 28-day summary and as you scroll down, you'll see your performance from the months before.
Based on each month, expect to see data like …
– Top tweet
– Top media tweet
– Top mention
– New followers
– Profile visits
– Tweet impressions
Your monthly summaries will provide a pretty accurate overview of what's working for you and what isn't. Perhaps you have noticed a significant decrease in your followers, so, you can look at the commonalities between your months content to hopefully pinpoint the reason behind the drop-in followers.
Your best performing months should be used as examples of what works for you – use the data to design your next pieces of content and you should expect to see even better results next month!
2. Top Tweets
Top Tweets measures the number of impressions each piece of content has achieved. The post with the highest number of impressions is the top tweet.
Since your top tweets have reached the widest audience, it's a good indicator of the kind of content that you should re-purpose. Look at the hashtags within the posts or the time of day you posted, they should be an indicator into what you're doing right.
Top Tweets will also share your engagement and engagement rate, which will give you an idea of what style of post your audience will interact with, whether it be retweeting or liking the post, following your page or clicking on the hashtag you used.
3. Audience Demographics
The more you know and understand about your audience, the better you can prepare your next Twitter content to engage them.
Analysing your audience will help you uncover valuable data that you can implement to build a connect between you and your target market.
Twitter analytics will show you …
– The male to female ratio
– Different languages
– Countries and regions
4. Events on Twitter
This section is a little different to your average analytics, it shows you upcoming events, sports, movies and recurring hashtags trends to help you get ahead of the game.
People around the world turn to Twitter to discuss events and holidays. You can implement event targeting build a campaign that delivers your message as the event unfolds.
Participate in these events to raise your Twitter audience on the topics that you get involved in, reach a wider audience and drive your network to engage with you.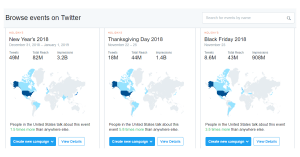 Getting Started
If you haven't already accessed your Twitter analytics dashboard, do so now! It's free and easy to interpret – https://analytics.twitter.com
Why not check out our Digital Marketing Terms Glossary?
About the author: 
Marie Harwood is a Digital Marketing Assistant at Different Gravy Digital, Hale, Cheshire.
Different Gravy Digital are a full service Digital Marketing Agency operating in the Hospitality & Leisure, Financial Services, Legal & Property sectors.  Products and services range from; 3D & 360° Tours, Website Design & Build, Social Media, Video Production, Search Engine Optimisation (SEO), Content Creation, Email Marketing, Online Feedback / Review Systems and Paid Advertising (Google, Bing and Social Media).
Contact Details:
marie@differentgravydigital.co.uk
0161 706 000
120a Ashley Road, Hale, Altrincham, Cheshire, WA14 2UN