The Benefits of Social Media Wi-Fi for Business Growth
These days if a venue isn't offering Wi-Fi, then chances are customers will spend less time there, never return or go to a competitor. To reap the benefits of social media Wi-Fi, businesses need to take full advantage of what wireless connection really has to offer.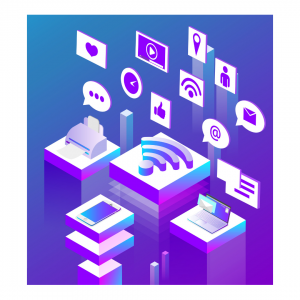 Many venues offer customers access to the internet via their Wi-Fi network. We've said goodbye to the days where Wi-Fi was a nice gesture that the occasional business offered. Wi-Fi (ideally available for free) is pretty much expected by customers in most venues, whether it be a restaurant, coffee shop, bar or communal area. But forget using slow, unreliable Wi-Fi. For businesses to fully enjoy the benefits of social media Wi-Fi, it needs to be fast, reliable and easily accessible.
With smart planning and a good marketing strategy, social media Wi-Fi can be a valuable asset for a business to understand their customers and keep them coming back for more.
What is Social Media Wi-Fi?
Social Wi-Fi asks visitors to logon on to your server with their social media account, usually Facebook, but other accounts can be Twitter, Instagram or a different platform.
1. Encourage consumers to access your Wi-Fi through logging into their social media accounts.
2. Offer connectivity through social sites (Facebook, Instagram …)
3. Upon signing in, you will have access to all their public information
4. Uncover their behaviour – whether they return to your venue and how long they spend with you
5. Use your new-found information to better your digital marketing
How Social Media Wi-Fi Can Drive Business Growth
1. Collecting Customer Information
The more you know about who it is you're trying to target, the better you can market your products / services to them.
Many businesses lack the means to understand their customer's behaviour, but social media Wi-Fi makes it simple.
When a consumer logs in to your Wi-Fi through Facebook, for example, you receive their public information, which typically includes their name, demographic, interests and contact information. You can then utilise this information to accurately target and re-target the consumer through email marketing, surveys, Facebook advertising and much more.
2. Taking Advantage of a Valuable Marketing Tool
Social Media Wi-Fi comes hand-in-hand with innovative marketing methods. Whether your goal is to increase engagement, customer retention or to acquire new customers, Wi-Fi is the must have tool to do so!
– Offer incentives upon returning
– Exclusive discounts and offers
– Live promotions
– Encourage online reviews
– Reward returning customers
– Increase brand awareness by asking customers to share your own social page
– Deliver customer promotions based on separate groups within your market
3. Partnering Up with Email Marketing
Social media Wi-Fi and email marketing can work harmoniously to deliver a powerful marketing message, here's how:
– Send messages once customers have left your venue thanking them for their visit
– Refer to them by name through your email communications, adding a personal approach
– Send them exclusive offers to encourage another visit
Setting up email helps you keep in touch with customers, even after they have left your venue.
What About GDPR?
Where collecting customer data is concerned, many people raise questions about compliance with GDPR.
By using Different Gravy Digital's social media Wi-Fi services, be assured that customers will be made fully aware that we're gathering their data.
Our practises are fully compliant with GDPR guidelines. If you have any more questions about social media Wi-Fi and GDPR, contact us and we'll answer any questions you may have.
The Bottom Line
If executed correctly, social media Wi-Fi can deliver exceptional customer experiences. Covert occasional visitors into long term customers, strengthen the connection between you and your customers and increase the effectiveness of your marketing methods.
Why not check out our Digital Marketing Terms Glossary?
About the author:
Marie Harwood is a Digital Marketing Assistant at Different Gravy Digital, Hale, Cheshire.
Different Gravy Digital are a full service Digital Marketing Agency operating in the Hospitality & Leisure, Financial Services, Legal & Property sectors. Products and services range from; 3D & 360° Tours, Website Design & Build, Social Media, Video Production, Search Engine Optimisation (SEO), Content Creation, Email Marketing, Online Feedback / Review Systems and Paid Advertising (Google, Bing and Social Media).
Contact Details:
marie@differentgravydigital.co.uk
0161 706 000
120a Ashley Road, Hale, Altrincham, Cheshire, WA14 2UN