A Simple Guide to Setup Google Tag Manager
Here's how to setup Google Tag Manager, just follow our instructions and you won't be able to go wrong.
It's free to setup, so you've literally go nothing to lose. After you've got Google Tag Manager running you can decide whether Google Tag Manager is suited for your business, which it probably will be.
If you don't already have an account click, "Start for Free" on the top left side of your page.
You'll be asked to enter your company name, country, container name (your website URL) and where you want to use the tag (Web, iOS, Android or AMP) for.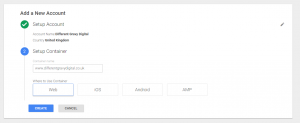 2. Tag Manager will give you two codes, one which you as high in the <head> as possible and the other immediately after the <body> tag.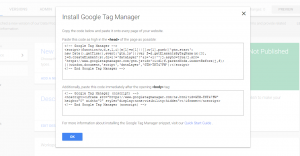 As you can see, setting up your own Tag Manager Account is really simple …
It'd be pretty challenging to do something wrong, but if you do just head over to Google's Quick Start Guide.
How to Setup Your First Tag
So, you've got your account up and running, it's now time to implement your first tag.
1. Select, "Add a New Tag"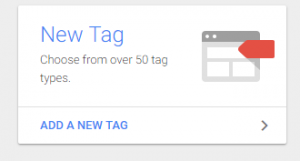 2. Give your Tag a name and click anywhere in the big white box, "Tag Configuration". You'll be shown a selection of tag types which you need to choose from …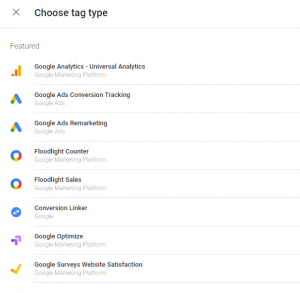 The above image isn't all the options available, you can also customise your Tag Type if you scroll down.
3. You'll be asked your Track Type, and there's a few options you can choose from based on what it is you're planning to track:
– Page view
– Event
– Transaction
– Social
– Timing
– Decorate Link
– Decorate Form
4. If you want to track with Google Analytics (like we are in this example) then you need to enter your tracking ID.

5. You need to choose a trigger (what it is that you want recorded), which will vary depending on your purposes.
We chose, "All Pages" so we gain valuable insight when someone views any of our web pages. Once you're happy with everything, select "Save" in the top right corner.
Then click submit so your tag starts to work.

6. After clicking submit, you'll be taken to the below configuration page. You have two options, to "Publish and Create" or "Create". If you're ready to push the tag onto all your pages then selection, "Publish and Create".

7. You're almost done. You'll be taken to the "Container Version Description", where you can keep your tags organised. Add your own name and description so you can keep controlled when you come to add more tags.

8. Just so you know your tag is working, it should appear in your "Version Summary Report".
Congrats, you've successfully setup your first tag! Happy Tagging.
Key Points to Remember
– You can create unlimited configurations of tags, so just like Google Analytics you can gather data on more than one thing at once.
– Keep organized, particularly if you create a few tags. Tags are great for creating in-depth reports, but they're only useful if you can understand them … You might want to use the data from two tags to understand behaviour, for example.
With so many great resources available on Google Tag Manager, you'd certainly be missing out if you didn't implement it into your own business.
Google Analytics and Google Tag Manager
As we've already said, both can work closely together to create an even strong analysing platform. Google offer a quick guide to deploying them together, which you can read all about here.
Why not check out our Digital Marketing Terms Glossary?
About the author: 
Marie Harwood is a Digital Marketing Assistant at Different Gravy Digital, Hale, Cheshire.
Different Gravy Digital are a full service Digital Marketing Agency operating in the Hospitality & Leisure, Financial Services, Legal & Property sectors.  Products and services range from; 3D & 360° Tours, Website Design & Build, Social Media, Video Production, Search Engine Optimisation (SEO), Content Creation, Email Marketing, Online Feedback / Review Systems and Paid Advertising (Google, Bing and Social Media).
Contact Details:
marie@differentgravydigital.co.uk
0161 706 000
120a Ashley Road, Hale, Altrincham, Cheshire, WA14 2UN