Why is Thin Content Bad for SEO?
Back in 2011 Google introduced an update named Google Panda – which decreases the ranking of websites due to the low-quality of their content. 'Thin' content defeats Google's objective to provide valuable, rich information to users – so websites with thin content are penalised on search results. Those with useful and relevant content are given better rankings.
In today's article, we'll be looking at what thin content actually is and why it negatively effects your websites SEO. We'll also be offering our expert tips that you can use to create valuable content on your website that appeals to your target audience and meets search engine requirements.
What is Thin Content?
Thin content is what Google views to be of little value to readers. Some examples include …
– Duplicate content – when content appears on the internet more than once
– Scraped content – taking content from other websites are placing it on your own
– Doorway pages – that solely exist to rank well for certain keywords and phrase
– Automatically generated content – programmed copy or combined content from other sites
How to Identify Thin Content
You've probably come across thin content at some point. Typical alarm bells to look out for are:
– Unoriginal content
– Content that has no relation to your search query
– It's uninformative and generally unhelpful
– Poorly written
– Small amount of content
– Excessive use of keywords
Thin content isn't always created to manipulate search engines. In fact, businesses can mistakably produce low-quality content because they don't understand how it damages their SEO.
What's Wrong with Thin Content?
The Quality of Your Site Goes Down
When Google indexes your website, one of the things the algorithm looks into is how valuable your pages are. If your website features thin content, then your page ranking is reduced.
Excellent Content is Vital
We all know content is king and to score a high ranking on search results your content needs to be compelling, useful and fulfils the searchers query. If your content fails to do that, then you don't have much chance of getting a high ranking.
User Experience
If your content is thin, users won't hang around on your site. The higher your bounce rate (where users click land on your page and leave hastily) then it will suggest to Google your site is low-quality
How to Improve Thin Content
The ultimate goal is to get your site's quality as high as possible. Don't be worried if you've found copy on your site that could be classed as thin content by Google. It's fixable if proper practises are instilled.
– Make sure your content is unique and your own work
– It has a clear structure and format
– The copy makes sense, it's detailed and useful
– There is a good word count with the appropriate use of keywords
You don't need to start from scratch: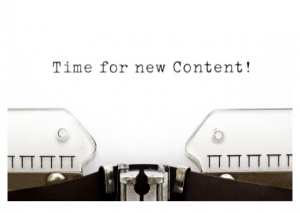 Develop:
If you're writing is dull – then expand it with detailed explanations. What other useful information can you include? What's going to stop the reader from finding the information on another site?
Rewrite:
Perhaps your content itself is good – but the order is muddled up.
Use the copy you already have and write it in a clearer, logical format.
Delete:
Some of your content might be salvageable. Replace your copy with something entirely new.
As you know, high-quality content is absolutely crucial for SEO. As a business, it's your responsibility to regularly review your content, monitor your ranking on search results and identify areas of improvement.
Let Us Help?
Don't have time to or the resources to produce regular content? We can do it for you.
E: contact@differentgravydigital.co.uk
Tel: 0161 706 0004
Why not check out our Digital Marketing Terms Glossary?
About the author:
Marie Harwood is a Digital Marketing Assistant at Different Gravy Digital, Hale, Cheshire.
Different Gravy Digital are a full service Digital Marketing Agency operating in the Hospitality & Leisure, Financial Services, Legal & Property sectors. Products and services range from; 3D & 360° Tours, Website Design & Build, Social Media, Video Production, Search Engine Optimisation (SEO), Content Creation, Email Marketing, Online Feedback / Review Systems and Paid Advertising (Google, Bing and Social Media).
Contact Details:
marie@differentgravydigital.co.uk
0161 706 000
120a Ashley Road, Hale, Altrincham, Cheshire, WA14 2UN