Beginner's Guide to Instagram Insights
If you're not looking at your Instagram Insights, how do you know whether your strategy is effective?
There are over 25 million business profiles on Instagram, so to even get your content seen is a challenging task. To make the most out of Instagram for business, it's vital to use the network's analytics to discover what's getting results and what isn't.
Analytics are based on solid facts, so it's down to your business to interpret what the statistics mean and how they can improve your strategy.
Your analytics are found within Instagram Insights, they provide the information on who is following you, when they're online and plenty more. Discover metrics for certain posts and stories to compare how well they have performed and access insights on your overall account, posts and stories.
Here's a breakdown of the Instagram analytics you can expect to see.
Insights About Your Account
– Discovery: view how many people have seen your content and how they found it
– Reach: the number of individual accounts who have viewed your post or stories
– Impressions: the amount of times your posts and stories were on-screen
– Interactions: measures your engagement, including website clicks and profile visits
Insights About Your Audience
Understand more about your audience, including their gender, age and location.
Look at …
– Likes
– Comments
– Insights About Individual Posts
– Saved posts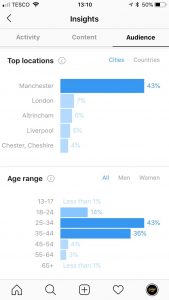 This section shows you how many actions were taken on your profile from a specific post. Including when people view your post, visit your business profile or fulfil an action.
– How many people have clicked on your username and visited your profile
– How many people followed you after seeing the post
– How many people click the link you've used in your profile description
– How many times people have clicked specific CTAs (Call Us, Email)
Insights About Your Discovery
– Uncover where your post was seen the post.
– % of people who saw your post but are not following you
– The number of individual accounts who saw your post
Insights About Impressions
– Analyse the amount your post has been seen by a certain surface
– Search & Explore: they may have found your post by looking at content from accounts they don't yet follow
– Location Pages: public content that was shared with its location
– Hashtag: public content shared with the corresponding hashtag
Insights About Stories
Impressions: how many views your story has gotten
Reach: number of individual accounts who saw your story
Taps forward: how many times a user has tapped to skip to the next part of your story
Tabs back: how many times a user has tapped to revisit a part of your story
Replies: how many people have sent you messages through the Send Message option on your story
Swipe away: how many users have skipped to the next account's story
Exits: how many users left your story
What to Do Next?
If you're looking to increase your engagement, following and the success of your business account, then understanding your Instagram analytics must be your first step.
Once you are comfortable with using Insights, you'll be able to start improving your own content strategy based on your new found information.
Why not check out our Digital Marketing Terms Glossary?
About the author: 
Marie Harwood is a Digital Marketing Assistant at Different Gravy Digital, Hale, Cheshire.
Different Gravy Digital are a full service Digital Marketing Agency operating in the Hospitality & Leisure, Financial Services, Legal & Property sectors.  Products and services range from; 3D & 360° Tours, Website Design & Build, Social Media, Video Production, Search Engine Optimisation (SEO), Content Creation, Email Marketing, Online Feedback / Review Systems and Paid Advertising (Google, Bing and Social Media).
Contact Details:
marie@differentgravydigital.co.uk
0161 706 000
120a Ashley Road, Hale, Altrincham, Cheshire, WA14 2UN