Getting Started with PPC Advertising
Have you heard the phrase PPC advertising floating around, but you're unsure to what it actually is?
In today's article, we'll be helping you understand the basics of PPC advertising and how you can decide whether PPC is right for your business.
What's PPC?
First things first, PPC actually means pay-per-click.
It's a form of advertising where businesses pay a fee each time one of their ads in clicked on. It's a way to buy consumers to your site, rather than relying on organic SEO / marketing.
PPC can offer immediate visibility online, and it's used by companies looking for long- and short-term lead generation. Dissimilar to more traditional advertising, (like newspaper, radio, television and outdoor billboards) PPC allows instant assessment of your ROI, helping businesses further their understanding of profits and investments.
PPC is most often associated with Google AdWords, but there are plenty of forms which can sometimes be overlooked:
Different Types of PPC Advertising
Here's the three most popular:
1. Search Engine Advertising
One of the most well-known forms of PPC is search engine advertising. Essentially, businesses pay search engines each time their ad is clicked, directing visitors to their website.
The most popular type is Google, but there are Bing and Yahoo too – who always seem to be forgotten.
Below is what they look like, as you can see they discretely include 'ad' next to the link.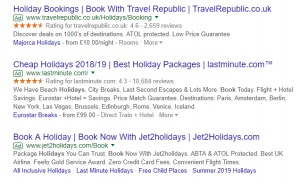 Sometimes it can be hard to rank organically, even more so if there is a lot of competition in your industry. Search engines sell keywords to the highest bidder – then you only cough up the cash when someone clicks on it. Hence the name, pay-per-click.
Return on investment can be large – businesses can make an average of $2 in revenue for every $1 they spend on Google Ads.
2. Social Media Advertising
The average click-through rate (CTR) in Facebook ads across all industries is 90%!
Usually this style appears in feeds or timelines. Ads can be targeted by demographics, interests amongst other data that is gathered by the social platform.
The main ones are Facebook, Twitter and LinkedIn. You don't need to have a large following for the ads to be affective – with an effective strategy you can raise brand awareness, push clicks to your website and boost sales.
3. Display Advertising
They're typically the banner, image or text ads that you see on different websites. They target particular audiences – think about the ads you've seen on websites, notice how they usually feature something that's of interest to you.
In fact, display advertising has proven to increase traffic to websites by 300%.
When Should Businesses Use PPC Advertising
If you want – you can use PPC advertising all the time. You don't need a specific reason to run a campaign, you might just want to consistently direct traffic to your website.
But, there are instances when immediate visibility is crucial.
For example, when you're testing a new business venture and you want consumers to complete a questionnaire or opt-in form. It's much quicker to invest in PPC advertising and get the traffic quickly.
Or, perhaps you have a flash sale or an unmissable offer you want consumers to see.
What Businesses Should Use PPC Advertising?
No matter the industry, any business can implement PPC advertising to meet their business goals.
One of the primary reasons that businesses have so much success with PPC advertising is because it grasps the attention of consumers when they're most likely to be interested in the advertiser.
For example, online retails can use keywords on Google to appear at the top, or near the top, of SERPs for certain keywords. This means the user is already interested in the advertiser because they're offering what they're looking for.
The only time PPC advertising won't be suited for your business is if you don't have the time to manage it properly. Campaigns require time, a budget and an effective strategy, so if you don't have the time, money or expertise to run a PPC campaign then it's not the advertising style for your business.
Want Some Help?
Designing, running and evaluating PPC campaigns can be a challenging task.
Why not let us take the pressure of you?
Contact us for a free, no obligation PPC, pay-per-click, consultation!
E: contact@differentgravydigital.co.uk
Tel: 0161 706 0004
Why not check out our Digital Marketing Terms Glossary?
About the author:
Marie Harwood is a Digital Marketing Assistant at Different Gravy Digital, Hale, Cheshire.
Different Gravy Digital are a full service Digital Marketing Agency operating in the Hospitality & Leisure, Financial Services, Legal & Property sectors. Products and services range from; 3D & 360° Tours, Website Design & Build, Social Media, Video Production, Search Engine Optimisation (SEO), Content Creation, Email Marketing, Online Feedback / Review Systems and Paid Advertising (Google, Bing and Social Media).
Contact Details:
marie@differentgravydigital.co.uk
0161 706 000
120a Ashley Road, Hale, Altrincham, Cheshire, WA14 2UN