Getting Started with Google Knowledge Panel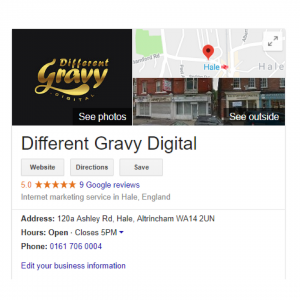 When people search for a business on Google, a box to the right may appear on their search results. It's called a Google Knowledge Panel (some call it a Google Knowledge Card) and holds information about a company to help potential customers learn more about a business. They're powered by Google's Knowledge Graph, which you can learn all about here.
They're a feature of Google's SERP and displays key information. Panels are pretty brief, so usually businesses provide a link to their website, so consumers can find more information.
How do I get a Google Knowledge Panel?
Once your Google My Business is complete and verified, Google will use the given information to set up your panel for you. You can edit your Google Knowledge Panel; for example, sharing opening times or images.
Setting Up Your Google Knowledge Panel
1. Complete Your Listing
First things first, make sure your listing looks as attractive as possible to viewers.
Google, along with all search engines, focus on giving users the best experience. Customer experience is maximised when they have all the accurate information available … this means not only completing the compulsory boxes but dedicating time to completing the optional ones too.
Don't forget about the basics because their absence will negatively affect your ranking; company names, address, telephone number and a small description.
2. Encourage Online Reviews
We've discussed the important of online reviews in a previous series, you can read all our review related blogs here.
You need as many (positive) online reviews on your Local listing. It acts as social proof for potential customers that your business is genuine and reputable.
It can be a challenge getting positive reviews since most of us only write them when we want to share a negative experience. You'll find it useful to read our blog post "8 Tips to Encourage Online Reviews" to see how you can push reviews.
Search engines will also acknowledge online reviews and they could positively or negatively influence your ranking on SERPs.
Don't worry about the odd negative comment or two, it's expected not everyone will like your products and services. Be assured it's unlikely your ranking would be penalised for the occasional negative review.
3. Respond to New Reviews
Show your business is active by signing in to your account dashboard and responding to new comments. Remember to remain professional, potential customers are likely to look at your reviews before making a purchasing decision.
4. Take Advantage of Google Posts
Google Posts is a feature where businesses can share content directly to Google to be featured in their Knowledge Panel.
You can feature an image, short description and choose from a selection of buttons linking to a page of your choice. Alternatively, you could create your post in to an event and add the timings and key details for users to see.
Dependent on your business, Google Posts can have many purposes. Take a look at our examples below;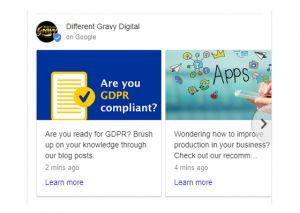 – Sharing Events
– Links to Your Contact Page
– Offers and Promotions
– Exciting News
– Changes to products and services
– CTAs – calls-to-action
Use your Google Posts however you'd like. They'll certainly draw attention to your Google Knowledge panel and share extra information consumers may find useful.
A bit of advice; keep on top of them. We've found they appear on SERPs for around a week before you need to upload new content or re upload.
Different Gravy Digital Are Here to Help
Don't want the pressure of monitoring your Local SEO and Google Knowledge Panel? Let us do it for you.
Get in touch for a free, no obligation consultation for more information!
E: contact@differentgravydigital.co.uk
Tel: 0161 706 0004
Why not check out our Digital Marketing Terms Glossary?
About the author: 
Marie Harwood is a Digital Marketing Assistant at Different Gravy Digital, Hale, Cheshire.
Different Gravy Digital are a full service Digital Marketing Agency operating in the Hospitality & Leisure, Financial Services, Legal & Property sectors.  Products and services range from; 3D & 360° Tours, Website Design & Build, Social Media, Video Production, Search Engine Optimisation (SEO), Content Creation, Email Marketing, Online Feedback / Review Systems and Paid Advertising (Google, Bing and Social Media).
Contact Details:
marie@differentgravydigital.co.uk
0161 706 0004
120a Ashley Road, Hale, Altrincham, Cheshire, WA14 2UN