Why Should You Make Your Site Google-Friendly?
SEO should be a crucial aspect of your marketing strategy. Nothing can compare to a well-designed, fully optimised website that's google-friendly and full of engaging content.
SEO isn't all sunshine and rainbows. It can be challenging, time consuming and actually rather infuriating when you're not achieving the results you were hoping for. But hang in there – optimising your website won't happen with a snap of your fingers. But with a bit of hard work you should be able to see a positive result in your SERP rankings.
What Not to do
I can't stress enough how inadvisable it is to try and cheat Google, or any other search engine. Many have tried, failed, and suffered the consequences. You might think you're being savvy breaking a few rules and regulations, but the fact is Google's algorithm is constantly learning and changing, so much so it's only a matter of time before you're caught.
Your website will be penalised, and your business will consequently suffer.
Is your business in it for the long run? If you want to create or maintain an established brand, the last thing on your mind should be cheating Google.
It's a resounding no. Do not stuff keywords. Do not use irrelevant keywords. Don't buy dodgy links. Instead, ensure your site is Google-Friendly so you can enjoy the rewards off a legitimately optimised website.
But what should you do instead?
5 Quick Tips to Make Your Site Google-Friendly
1. Create good quality content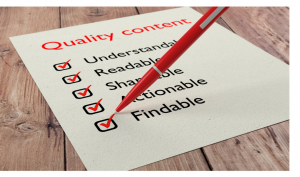 I always stress the importance of producing excellent content, but that's because it really is that important. Content binds your pages together, it pushes conversions and helps visitors to understand your business and brand.
As I said, your keyword needs to be applicable. Not only for the benefit of your customers, so they don't waste their time searching your site for information irrelevant to them, but for your business too. Traffic doesn't put money in your pocket. Sales do. Your content needs to push sales and show your brand in it's best light.
Think about your page and consider, if you weren't involved with the business, how would you, as your target market, discover your page? Your keywords need to be what you predict your target market to type in to their search box. Keywords should blend in with the rest of your content, so Google can establish context and assess whether your content is relevant to their results.
2. Use 'actual' text
In this instance, images don't speak for themselves. Google can't read Flash animations, video clips or images.
Whilst they're great to bring your site to life, you can't avoid using written content.
If you don't include text, it'll be difficult for Google to understand the context of your pages, which will probably negatively impact your rankings.
3. Be keyword rich
Preferably try to use your keyword/s embedded in your content, title, meta description and URL. The keyword, "leather shoes", in a URL like, shoppingonline/shoes/leather-shoes/ will perform a lot better than, shoppingonline/shoes/12840/.
It looks neater and more professional too. Of course, your keywords need to be relevant to your business. Head over to, "How to Choose the Right Keywords for Website Optimisation" to see how to increase your website traffic.
4. Connect your content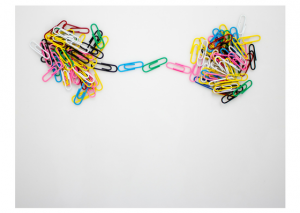 Make some relevant links in-between posts so everything can tie together. Your audience will be on your site for longer, but you'll also be letting Google know the structure of your site, giving relevant pages and posts link value.
Don't go mad with it. Make links when it's logical to do so. For example, a blog post could link to another blog post discussing a similar topic. Or, a product page could link to a blog post highlight its benefits.
5. Check your images
Slow loading sites with huge images won't be looked upon favourably by Google.
Use a plugin to reduce the sizes of your images, so your visitors can have a faster loading time.
Add an image description too and an alt text, ideally including your keyword/s, to boost your efforts.
As I discussed in my previous blog, SMART and Setting Goals for SEO, Google's algorithm is a mystery so it's hard to design the 'perfectly optimised' website. If you'd like to learn more about Google's Algorithm, head over to my recent blog post, "Google's Algorithm Explained" to find out more.
But, with our resourceful tips to make your site Google-friendly, you should start to see an improvement in your SEO ranking.
About the author:
Marie Harwood is a Digital Marketing Assistant at Different Gravy Digital, Hale, Cheshire.
Different Gravy Digital are a full service Digital Marketing Agency operating in the Hospitality & Leisure, Financial Services, Legal & Property sectors. Products and services range from; 3D & 360° Tours, Website Design & Build, Social Media, Video Production, Search Engine Optimisation (SEO), Content Creation, Email Marketing, Online Feedback / Review Systems and Paid Advertising (Google, Bing and Social Media).
Contact Details:
marie@differentgravydigital.co.uk
0161 706 0004
120a Ashley Road, Hale, Altrincham, Cheshire, WA14 2UN