7 Different Facebook Messenger Chatbots
Facebook Messenger Chatbots can be used for a lot more than you might think.
When Facebook first introduced their Messenger Chatbots, it seemed like just another way to address customer complaints. But in reality, they're used for a whole lot more.
Organisations have the freedom to be creative with their bot and tailor it to meet their consumer's needs.
Would you like to discover how Facebook Messenger Chatbots could contribute to your digital marketing? Here's a few excellent examples of brands who are making the most out of Messenger Chatbots.
Poncho, The Weather Cat, can help you decide if you need to pack an umbrella on your travels to work.
Chat to Poncho about the weather forecast and current conditions in your area.
Not only can Poncho be a life saver when it comes to quick weather updates, it's actually rather interesting to 'chat' to. Just because Chatbots don't have a person sat behind the keyboard doesn't mean they can't hold interesting and engaging conversations with some personalised replies.

Keep on top of news around the world with CNN's bot.
The bot will give you the option to subscribe to daily news, check out their breaking news or updates from your area. Alternatively, if you'd like news suited to your interests you can find topic related articles too.
It's the perfect way to stock-up on information that interests you without having to search endless news publication websites
If you want to amuse yourself on your daily commute, you can always create memes. Social media just wouldn't be the same without them. They're becoming more and more common in digital marketing too.
Now for the interesting part, the bot will make a meme for you if you upload an image, a top and bottom text.
The makeup brand has launched a bot for consumers to book makeovers, share store feedback and chat with support.
They're one of the first in their industry to launch a bot. For now, only consumers in Canada and US can take full advantage of the bot since others can't book makeovers / share store feedback in other areas. But, we're hopeful that as Sephora's bot becomes more advanced, consumers in other countries can enjoy Sephora's personalised pocket assistant too!
Conveniently find your dream hotel with SnapTravel's handy help. All you need to do is enter a location and their bot will find you the best deals based on your personalised filters. You can refine your search by filling out your budget range, currency, amenities and ratings.
For all the indecisive film-watchers, AndChill is your solution to finding the perfect film.
All you need to do it tell their bot the kind of films you like to watch, and it will quickly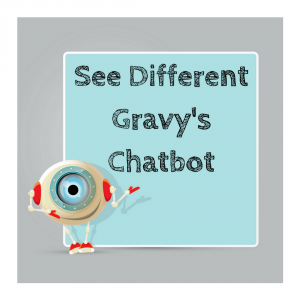 respond with suggestion/s and a link to the trailer. Could finding the best movie be any easier?
And last, but certainly not least, us!
Head over to our chatbot to discover what we've designed!
Are You Next?
Are you eager to implement your own chatbot?
Enquire about building your own Chatbot with us today! For a free, no obligation consultation please contact;
E: contact@differentgravydigital.co.uk
Tel: 0161 706 0004
About the author: 
Marie Harwood is a Digital Marketing Assistant at Different Gravy Digital, Hale, Cheshire.
Different Gravy Digital are a full service Digital Marketing Agency operating in the Hospitality & Leisure, Financial Services, Legal & Property sectors.  Products and services range from; 3D & 360° Tours, Website Design & Build, Social Media, Video Production, Search Engine Optimisation (SEO), Content Creation, Email Marketing, Online Feedback / Review Systems and Paid Advertising (Google, Bing and Social Media).
Contact Details:
marie@differentgravydigital.co.uk
0161 706 0004
120a Ashley Road, Hale, Altrincham, Cheshire, WA14 2UN