Getting Started with Event Targeting on Twitter
People from across the world come to Twitter to discuss events, holidays and current happenings. Through the use of event targeting on Twitter, businesses can discover and target events that cater to their target audience.
In this blog post, we'll be detailing how you can use event targeting on Twitter to further your engagement, reach more of your market and how you can deliver a message at the right time to the right audience as your targeted event takes place.
How to Find the Right Event for Your Audience
Head over to your Twitter analytics and view your events calendar.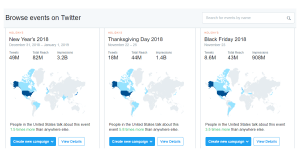 You'll see upcoming events for sports, movies, holidays and recurring trends.
Click on an event to discover audience insights, for instance:
– Which gender is talking about the event more
– Which age groups are the most interested
– The most popular countries where people are discussing the event
– If the event is being discussed more on a computer or mobile device
Top tip: To save time, filter events by date, types and location.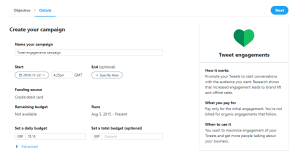 Each event will also tell you:
– The number of current tweets about the event
– Total reach (the number of people that were reached during last year's event)
– Impressions (the number of people who saw Tweets about the event)
Event data is available up to 30 days before the event commences. If it's the first year the event has been a targeting option, the reach data will not be available.
How to Target an Event
1. Browse Twitter event categories, filter the results or search for a certain event by name
2. Select the Create New Campaign button located in the top right of the event page and select from the drop down the objectives you want to target.
3. Based on the objective you chose, you'll be directed to set up your campaign
4. Complete the rest of the campaign parameters and you'll be ready to launch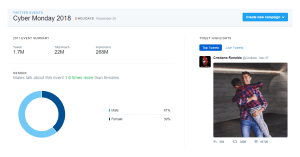 When to Target an Event
You can begin to target an event up to two weeks before it starts. You'll find both the start and end data listed in the event calendar. All events expire three weeks after they have finished, so after expiry you will no longer be able to target that event after that time.
As you probably know, people tend to talk about an event before it happens. Whether it's an annual holiday, a new movie release or a sports event, there tends to be a lot of build up and excitement the closer it gets to the beginning date.
Take advantage of pre-event hype by analysing audiences starting 30 days before an event, which allows you plenty of time to plan, launch and run your campaign.
The Bottom Line
The great thing about event targeting on Twitter is you can reach high volumes of targeted people. Take advantage of the brilliant reach and use event targeting to better your business.
When executed correctly, Twitter events can be a great way for your brand to increase awareness, connect with your audience and build traffic to your brand.
Why not check out our Digital Marketing Terms Glossary?
About the author:
Marie Harwood is a Digital Marketing Assistant at Different Gravy Digital, Hale, Cheshire.
Different Gravy Digital are a full service Digital Marketing Agency operating in the Hospitality & Leisure, Financial Services, Legal & Property sectors. Products and services range from; 3D & 360° Tours, Website Design & Build, Social Media, Video Production, Search Engine Optimisation (SEO), Content Creation, Email Marketing, Online Feedback / Review Systems and Paid Advertising (Google, Bing and Social Media).
Contact Details:
marie@differentgravydigital.co.uk
0161 706 000
120a Ashley Road, Hale, Altrincham, Cheshire, WA14 2UN