How to Create Your Own Content Calendar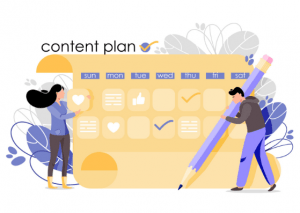 Whether you're a newbie to content marketing, you're looking for a new approach or you want to revamp your entire strategy, you've found the right place to learn how to build an effective content calendar.
Before you begin to design your content calendar, you need to create a content strategy. If you haven't got a content strategy or you're looking for tips to improve your existing one, use our guide to do so:
In this blog, we'll be detailing how you can build your personalised and effective content calendar and our best advice to do so. Use our guide to deliver the greatest calendar that hits all the right marks.
What's a Content Calendar?
It's simply a calendar featuring all the content your business will be distributing in a given time. Whether you plan your content weekly, monthly or quarterly is entirely up to you – it depends on how fast-paced and changing your industry is.
Why Every Business Needs a Content Calendar?
1. To Never Miss Important Dates
#StarWarsDay and #WorldToiletDay aside, there's bound to be a handful of national / global dates that matter to your industry. A content calendar helps you prepare for each big day, so you can engage and elevate your brand accordingly.
2. To Be Consistent
Routinely distributing content is the best way to keep your existing followers or viewers engaged and to generate new ones.
Why would anyone follow a profile who last posted 6 months ago? They are likely believe your account is inactive.
3. To Discover the Perfect Mix
Yes, your followers want to hear about your latest sales and how they can get an exclusive discount. But they also want to learn more about your brand and you need to be a useful source of knowledge for them to keep interested in you.
– Share user-generated content
– Share relevant articles
– Ask questions
– Comment on relevant posts
– Share your blog posts
– Inform your audience of important news / updates
4. To Save Time
Procrastination is costly.
Planning content in advance is a lot more time efficient than making it up as you go along. By allocating a good amount of time to update your calendar weekly / monthly / quarterly you'll be delivering well-thought-out, quality work that delivers results.
How to Build Your Content Calendar
1. Brainstorm Ideas
Before you plan your content in detail, it's always good to jot down ideas about what you're planning to post. Here's a few points to consider getting you started:
– Your brand persona – casual, fun, serious, formal?
– What content would your audience like to see?
– What issues within your industry do you think your brand could answer?
– What industry news is share-worthy?
– Are there any important dates or holidays relevant to your business coming up?
2. What Style of Content Do You Want to Share?
– Blogs / articles
– Q & As
– Images
– Videos
– Infographics
– Interviews
– Case studies
– Industry related statistics
– How-to-guides
– Product tutorials
– Success stories
– Webinars
– Polls
– Debates
3. Test Your Calendar
Whether you use Excel or Google Sheets calendar, build your calendar for a short time frame to begin.
If you're building your first ever content calendar, then maybe create content for the first week or two to begin with. Then, you can evaluate your success and create the following weeks based on your analytics from your first week or two.
Once you get more confident with the style of content your audience want to see, you can schedule your content for 1, 2 months or for however long.
4. Keep an Eye on Your Content
Is your content delivering the results you expected? Are you seeing an increase in engagement, followers or leads?
Is your content interesting? What's your average CTR on posts?
You can alter your calendar at any time.
What Should Be Included in a Content Calendar?
1. The time and date your content will be published
2. Any attachments you'll be using, like a link to your blog post, image or video
3. Copy – the content for your post
4. Popular hashtags – to expand your reach
Conclusion
A great content calendar goes hand-in-hand with an excellent content strategy.
Your content calendar provides a bird's eye view, so you can see what's coming up over the next few weeks. Use your calendar to find your optimal posting time, what style of content generate engagement and the benefits your content delivers.
Do you have anything to add to our calendar? Tips? Advice? Please let us know in the comments.
Why not check out our Digital Marketing Terms Glossary?
About the author: 
Marie Harwood is a Digital Marketing Assistant at Different Gravy Digital, Hale, Cheshire.
Different Gravy Digital are a full service Digital Marketing Agency operating in the Hospitality & Leisure, Financial Services, Legal & Property sectors.  Products and services range from; 3D & 360° Tours, Website Design & Build, Social Media, Video Production, Search Engine Optimisation (SEO), Content Creation, Email Marketing, Online Feedback / Review Systems and Paid Advertising (Google, Bing and Social Media).
Contact Details:
marie@differentgravydigital.co.uk
0161 706 000
120a Ashley Road, Hale, Altrincham, Cheshire, WA14 2UN