What are Chatbots?
Understanding Chatbots is a crucial for businesses to keep in the game. If the concept of Chatbots is completely alien to you, our simple beginners guide is the perfect place to start.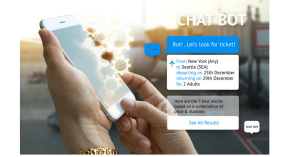 The simplest way to describe a Chatbot is a virtual assistant, programmed to mimic conversations. Chatbots used to be only capable of simple conversations, but thanks to artificial intelligence and machine learning capabilities, you could be conversing with a Chatbot without even realising it. They can understand your questions based on guidelines in their programming and they will guide you to your answer.
They've been around for some time, their growing popularity with leading companies like Facebook and Spotify means more and more companies are jumping on the Chatbot bandwagon.
How do Chatbots work?
Chatbots can do everything! They've changed the way businesses provide online assistance to customers, you can seek information when it's convenient to you instead of waiting to speak to a customer service representative. Businesses can provide help a lot quicker, whether that be ordering a takeaway, booking a flight or enquiring about a service.
There is an endless list of ways introducing Chatbots to your business can benefit you, here's a few.
1. Access to support 24/7 – nobody likes the irritating music played whilst you wait for what seems like an eternity to speak to an agent. There's not need for your clients to wait when they don't have to – bots can provide constant contact day or night. They don't get tired, they don't need breaks and they can operate every day of the year.
2. Help for everybody – our multi-tasking skills are nowhere near as advanced as bots, a bot can chat to hundreds, maybe even thousands, of people at one time. You can be confident every single one of your customers is having their questions answered.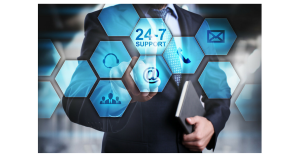 3. Time effectiveness – as a business owner, one of your top priorities is using your employees time effectively. For example, your business could use a Chatbot for customer support, then any questions they cannot answer can be directed to an agent. Your customer service team will have extra time to support customers who need the assistance of a human.
Can Chatbots replace humans?
Bots are becoming smarter, friendlier and more 'human-like' all the time. But does a bot really communicate the same way humans can? Can their responses be too generic? Empathy and understanding are crucial in conversations, even more so when a customer is unhappy with a service / product.
Can Chatbots understand emotions?
We mustn't und
erestimate the capabilities of Chatbots. Yes, Chatbots are an incredible artificial intelligence advancement, but, for the time being, they cannot think for themselves.
Chatbots still have teething problems to improve, but, they're meeting the needs of demanding customers who want answers immediately. Chatbots are the future for customer service, who knows how advanced they will become…
Getting started with Chatbots
If you would like to find out how you can implement Chatbots into your business, we are here to assist! Please contact Different Gravy Digital on either 0161 706 0004 or mg@differentgravydigital.co.uk
About the author:  
Marie Harwood is a Digital Marketing Assistant at Different Gravy Digital, Hale, Cheshire.
Different Gravy Digital are a full service Digital Marketing Agency operating in the Hospitality & Leisure, Financial Services, Legal & Property sectors.  Products and services range from; 3D & 360° Tours, Website Design & Build, Social Media, Video Production, Search Engine Optimisation (SEO), Content Creation, Email Marketing, Online Feedback / Review Systems and Paid Advertising (Google, Bing and Social Media).
Contact Details:
marie@differentgravydigital.co.uk
0161 706 0004
120a Ashley Road, Hale, Altrincham, Cheshire, WA14 2UN