Getting started with Google AdWords
Before we begin, look at the statistic below, they show how valuable Google AdWords can be!
– 86% of consumers use the Internet to find a local business (WebVisible survey)
– Businesses make an average of $2 in revenue for every $1 they spend on AdWords. (Google Economic Impact Report)
– About 97% of Google's total revenues come from advertising. (Google Investor Relations)
Google AdWords can be called a range of different terms; Google sponsored links, Google Ads or Google paid ads, but they all mean the same thing.
What is Google Paid Ads?
Googles gives businesses the chance to appear at the top of SERP (search engine result pages) for searches that are relevant to their site, for a fee. Google paid ads are an excellent way to increase your brand's exposure and to avoid your content being ignored for other sites who may have a higher organic SEO ranking.
How Are Paid Ads Different to Organic?
Just look at the example below.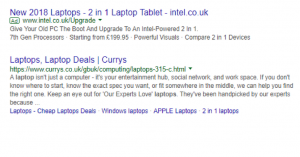 As you can see, the paid ad appears first in SERP.
If you'd like your ad to appear at the top of SERP, as one of Google's sponsored links, you need to enter an auction, so your ad will be shown every time a user makes a search relevant to your website. Google will give you a Quality Score for the keyword you're bidding on.
If your ad is approved and Google agree to sponsor it, you'll be charged a small fee whenever a user clicks on the ad linking to your site. You, the advertiser, pay Google, the sponsor, every time the paid ad is clicked on, this is also known as pay-per-click marketing or pay-per-click advertising, PPC.
Before we go any further, you must know how to win Google's auction.
As part of the auction Google will give you a Quality Score. The higher your Quality Score, the higher your ad's position will be on SERP.
Below are a few suggestions to help you get a high Quality Score:
– Your ad must be relevant to the search query you're auctioning for
– Your keyword needs to be relevant to your ad group (ads that target a shared set of keywords)
– Your ad needs to be relevant to it's landing page (the page on your website that users will see upon clicking your ad)
– Improve your landing page load times – slow server, large page size, multiple or slow redirects are just a few of the factors that will cause your page to take a while to load
– The Quality Score will improve over time (or not) as Google evaluates and monitors the effectiveness & relevance of your advert and the actions consumers take when seeing them
In a nutshell, Google wants you to prove how useful you are to the user. If your ad is relevant to the keyword, and thus the user, your quality score will be higher, and Google will probably feature your higher than those of your competitors and potentially at a better price.
The Benefits of Google AdWords
It's Pay Per Click (PPC)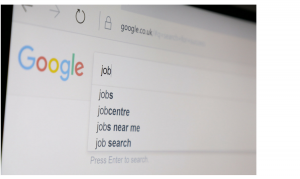 You only pay when someone clicks on your ad. So, if your advertisement isn't a success it's nothing to worry about. It's a self-explanatory benefit, you only pay when a user uses Google for a search that involves your keyword and is attracted enough to your ad to click on it and in turn visits your webpage. During the auction you can specify how much you will PPC on your ad with a maximum budget for each day.
People use Google for a purpose
Typically, people use Google to search for something because they have interest in it.
Social media advertising does have its perks. But take Facebook as an example, your paid ads appear on people's news feeds. They may not even be paying attention to ads, nor do they have any intent on using your services.
Enter: Google's sponsored ads.
This is why Google's advertisements are so successful. The people your targeting have a proven interest in your services because the search they conducted included a keyword relevant to your business. Users are actively looking for you, beat your ad group and be visible at the top of SERP.
Opportunity for analysis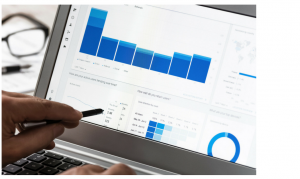 You can track how many people see your ad, click on it and take action with the AdWords Dashboard. If an ad isn't a success, you can amend it until your click-through rate increases. There's always room for improvement, and with the AdWords Dashboard, you'll have insightful analytics at your fingertips.
The Bottom Line
If you want to raise your brand's awareness, increase visitors to your website, increase your sales and ROI, we strongly recommend giving Google AdWords a go.
Different Gravy Digital have the experience and expertise to assist your company with Google AdWords.
If you would like a free, no obligation consultation … contact us today!
mg@differentgravydigital.co.uk
0161 706 0004
About the author:
Marie Harwood is a Digital Marketing Assistant at Different Gravy Digital, Hale, Cheshire.
Different Gravy Digital are a full service Digital Marketing Agency operating in the Hospitality & Leisure, Financial Services, Legal & Property sectors. Products and services range from; 3D & 360° Tours, Website Design & Build, Social Media, Video Production, Search Engine Optimisation (SEO), Content Creation, Email Marketing, Online Feedback / Review Systems and Paid Advertising (Google, Bing and Social Media).
Contact Details:
marie@differentgravydigital.co.uk
0161 706 0004
120a Ashley Road, Hale, Altrincham, Cheshire, WA14 2UN