Prepare for battle, Black Friday is almost here. For many, the thought of Black Friday is anything but appealing. Images of stressed shoppers pushing and shoving to fight over the last of the heavily discounted televisions and ridiculously early ques forming outside of super markets are good enough to give anyone nightmares. But are the deals too hard to resist? Are they that good, you'd be stupid not to suffer the pain of long ques?
This year, Black Friday falls on November 24th. Traditionally, it was just focused on one day for shoppers to snap up great bargains. However, several businesses now start Black Friday before the official day, sometimes weeks before.
Here is everything you need to know.
What is it?
Black Friday started in America, it's the day after Thanksgiving, where businesses offer massive discounts on products before the festive season starts. Customers cause mayhem on online and in stores, with ginormous ques on both.
But it's no longer exclusive just to America, with countries like the UK, China, New Zealand, Japan, Australia and Mexico all celebrating Black Friday on their own land.
Our top tips to make the most of Black Friday deals!

Refresh, refresh, refresh – be patient, online stores are obviously going to be busy! You'll get through to the website eventually, just keep clicking!
Pre-plan – what do you want the most? Make sure you're well prepared so as soon as the deals come out (and some already have) you're ready.
Keep your eyes peeled – some stores may offer you extra discounts on top of Black Friday offers. For example, free shipping. Look after the pennies and the pounds will look after themselves.
Be quick – you've been warned – some deals will sell out in seconds!
Where are the best deals?
Amazon's Black Friday starts on 17th November, a whole week early than the official day. And they have whopping prices knocked off, just sign up to their Daily Deals email to never miss an offer. Look out for discounts on games, fashion, consoles, jewellery and many more! You can sign up here.
Although John Lewis chose not to take part last year, this year they're hitting Black Friday offers with a bang. But you must be quick – they're Black Friday deals will go on sale at midnight and it's predicted they will sell out in a few hours. I'd suggest setting an alarm and pouring a hot cup of coffee! You can shop their Black Friday discounts here.
Topshop, a fashionistas heaven, will have big discounts on shoes, dresses, jeans and coats. If you want to be the first to hear about the discounts that could be coming your way, just sign up to their newsletter here.
But for fashion-lovers, the deals don't stop there. Newlook will be taking part too! You can expect special offers on dresses, shoes and gifts for someone special. Don't wait for the official Black Friday to start, Newlook already have some incredible deals. See for yourself here.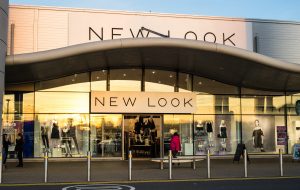 After last year's success, Argos are participating with even more exclusive deals. John Rogers, Argos' CEO, revealed some exciting news, "We have been busy preparing for the Black Friday period for many months now, ensuring our digital channels, stores and distribution centres are all geared up in anticipation for high levels of demand for what we expect to be fantastic deals across must-have products." In fact, some of Argos' deals are less than half price! You don't have to take my word for it, check for yourself here.
Vodafone's Black Friday starts on the official day, 24th November, and will continue all weekend! However, many offers may not last that long. If you want brilliant deals on your favourite phones and tablets, just register your interest here and Vodafone will send you either a text or email as soon as the deals open!
This year, Debenham's deals start on Monday 20th November. Offers will be extended across their whole range so you can be 99.9% sure you'll find the perfect offer for a gift or a treat for yourself. There's even Black Friday furniture deals so you can have the perfect home for maybe half the price! If you don't want to miss exciting news, just register here.
Tesco's Black Friday will take place from the 20th to the 27th of November, with promotions running at various dates through that period. Just one of many impressive deals is selected Dyson vacuum cleaners, where shoppers can save up to £220! Keep updated on their link here.
Unfortunately, not all shops take part. Although last year Apple succumbed under the pressure to be involved, it can't be promised they will this year. Even if they do participate, don't get your hopes up. Last year Apple's offers only lasted for 24 hours and even then, it was only a gift card up to £120 when customers purchased specific products, needless to say the offer didn't included their then latest product, the iPhone 7.
Whether you're hoping to buy online or in store, Different Gravy Digital wish you the best of luck in your search for the perfect deals!
About the author:
Marie Harwood is a Digital Marketing Assistant at Different Gravy Digital, Hale, Cheshire.
Different Gravy Digital are a full service Digital Marketing Agency operating in the Hospitality & Leisure, Financial Services, Legal & Property sectors. Products and services range from; 3D & 360° Tours, Website Design & Build, Social Media, Video Production, Search Engine Optimisation (SEO), Content Creation, Email Marketing, Online Feedback / Review Systems and Paid Advertising (Google, Bing and Social Media).
Contact Details:
marie@differentgravydigital.co.uk
0161 706 0004
120a Ashley Road, Hale, Altrincham, Cheshire, WA14 2UN