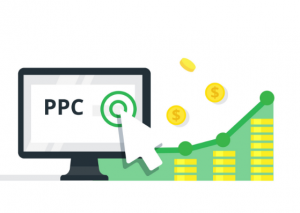 There's a compelling case to be made about the benefits of PPC advertising.
PPC, when managed correctly, can have a huge, positive impact on businesses. Those who don't implement PPC advertising into their marketing strategy are likely to be missing out on valuable traffic, leads and sales.
Particularly for small and start-up businesses, PPC advertising can be a great way to achieve a successful online presence. In fact, PPC ads can boost brand awareness by 80%.
In this article, we'll be looking at the benefits of PPC advertising that you can take advantage of today.
Our Top Benefits of PPC

1. Helping You Meet Business Goals

PPC can assist you to meet your objectives, for example:

– Website traffic
– Lead generation
– Conversion rate
– Brand awareness
– Raising revenue

PPC advertising allows you to measure your ROI, so you can see whether you're meeting your business goals and what exactly you're getting out of the ads.

For example, if your goal is to raise website traffic, then measure the increased number of clicks you're getting and compare this to your leads / sales / revenue.

2. Immediate Brand Exposure

PPC advertising isn't a replacement for SEO, but it can take a while to get a good ranking on SERPs.

Whilst you work on improving your SEO, PPC advertising can give you the immediate brand awareness you're looking for.

SEO is a crucial part of any website, but PPC advertising allows you to see the results of your campaign as soon as your ad is live, instead of waiting weeks / months to see improvements in rankings organically.

3. Limit Your Pay Per Click

As you know from the name, PPC – you only pay when someone clicks on your ad.

But you can also limit your daily spend. You'll never receive unexpected bills or go over budget, if you cap your budget.

Regularly review your PPC data and see how your budget was spent and analyse what happened once the user clicked on your link.

Going forwards, you can raise your budget to meet business goals. For example, perhaps you're having a lot of success with PPC and after careful reviews you decide increase your budget.

Or, maybe your PPC ads aren't delivering the results you were expecting so you decide to lower your budget and run some tests to optimise your ads.

4. Reach the Right Audience When They're Looking for You

You're in full control – decide where and when your ads will be displayed and select your keywords, device, time, location, website along with other factors.

The options that you have really allow you to meet each segment of your target audience with different ad styles, so you can meet the specific needs of everyone in your market.

Whatever style of PPC ad you go for – whether it be search engine, social or display advertising – you can be confident your ad is going in front of consumers who will most likely click on your ad.

Even if your ads fail to bring in the right traffic – it's nothing to worry too much about. You're in control, so you can easily change the content, keywords, location or other variables to see what works.

PPC Advertising and Your Business

If you're looking to grow your business, PPC advertising could be the key to raising your revenue.

Designing, running and evaluating PPC campaigns can be a challenge task.

Why not let us take the pressure of you?

Contact us for a free, no obligation PPC, pay-per-click, consultation!

E: contact@differentgravydigital.co.uk
Tel: 0161 706 0004

Why not check out our Digital Marketing Terms Glossary?

About the author:

Marie Harwood is a Digital Marketing Assistant at Different Gravy Digital, Hale, Cheshire.

Different Gravy Digital are a full service Digital Marketing Agency operating in the Hospitality & Leisure, Financial Services, Legal & Property sectors. Products and services range from; 3D & 360° Tours, Website Design & Build, Social Media, Video Production, Search Engine Optimisation (SEO), Content Creation, Email Marketing, Online Feedback / Review Systems and Paid Advertising (Google, Bing and Social Media).

Contact Details:

marie@differentgravydigital.co.uk

0161 706 000

120a Ashley Road, Hale, Altrincham, Cheshire, WA14 2UN