The appeal of productivity apps is obviously unarguable, they are transforming our working lives for the better.We're all so busy nowadays. If you're not working towards tight deadlines, you're rushing around all day to get to meetings on time and you have what seems like an endless to-do list and hundreds of unread emails.
With so many different apps out there (and admittedly some do the complete opposite of increasing productivity) we've chosen our top 5 productivity apps to help you manage your time more efficiently!
5. Pocket
Some may know the app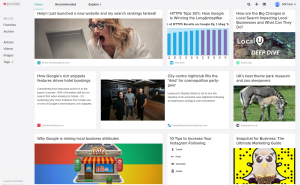 by its former name Read It Later, but it just goes by a different name now, Pocket. There is so much interesting content out there, but the truth is we don't always have time to read it there and then. Users can just pocket the information, like a real newspaper, and read it at a better time.
Using Pocket will mean you never have to miss an interesting article, informative blog post or intriguing gossip ever again. As a user, Pocket will allow you to save an article / web page and store it in a remote server to be read later in an interface; almost like your own personalised newspaper. Your saved content will be archived into a safe, easy, convenient place. It's the perfect way to manage any articles or web pages you haven't had the time to read yet!
Here's how you can use Pocket to improve your productivity:
Instead of ploughing through your search history looking for that one webpage you thought you'd remember the name of, Pocket will have it safe and sound ready for your convenience.
It's sort of like Buffer, you can share your articles to multiple social accounts with one click. But use both – they work seamlessly.
And it gets better, Pocket will remove clutter from articles and you can adjust the text's settings for easier reading.
After all, what's more productive than having the best, engaging content quite literally in your pocket?
4. Dashlane
Its highly recommended to have separate passwords for every account you have, but I'd be very impressed if you could remember them all. I can't think of anything more frustrating than trying numerous passwords or even usernames to access programmes / apps.
To make passwords even more annoying, different accounts seem to always have different requirements. For instance, some must include a capital letter, some need a character you'll never remember like, *&£]!? or/and require a minimum of 7 or 8 characters. It all gets very confusing and keeping all your passwords on a spreadsheet just doesn't cut it anymore. This is one app that once you start using you can never imagine life without it!
Whilst there are other password saving software, Dashlane is my preferred choice. It works on multiple devices like a desktop, laptop, tablet & mobile phone and al passwords, which can then all be synced. Dashlane will suggest improvements to your passwords and will even auto generate them, if required.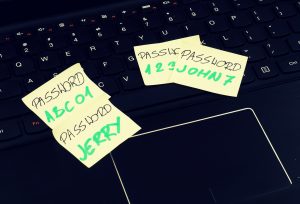 Don't panic – your passwords aren't just accessible when someone goes to open Dashlane's app – you'll have only one master password to remember; it's not stored anywhere, and you are the only person who will know it. There's just two simple rules, remember the master password and don't tell anyone. If your device is stolen or misplaced, you can remotely change the master password, locking access to the account with the option of changing all your passwords to accounts in seconds.
The more passwords you save to your Dashlane account, the more intelligent Dashlane will become, and you'll save more and more time!
3. Buffer
Image if you had to write a post at least twice a day, and over the weekend and holidays, for numerous accounts. One you'd probably forget and two it would be extremely inconvenient. Buffer solves that issue by allowing you to schedule content in bulk, so you will always have an online presence, no matter what you're doing that day. It takes the stress of daily scheduling, whilst it's great to check on posts daily for interaction / questions / comments, it isn't the end of the world if you're too busy to check.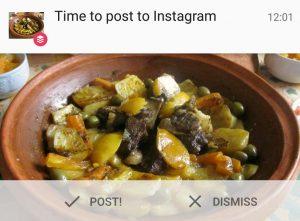 Buffer is brilliantly suited for mobile use, simple share posts straight to your social account/s on the go! This allows you to spend less time managing social media during your office hours, freeing up more time for different tasks. We're all bored on long commutes anyway – why not get a little extra done before you start work to decrease stress during the day? It's convenient for Instagram – since Instagram do not allow posts to be uploaded automatically to accounts, Buffer will send you a notification when it's time to post with the image attached and the caption copied. That's a lot quicker than setting an alarm on your phone when it's time to post!
To see how to set up Buffer on your mobile phone just check out their blog post here. It's straightforward and won't take up much of your time.
In our previous article, we actually discussed the benefits of Buffer and Hootsuite, you can read all about it here.
2. Dropbox
Saving files to your desktop isn't always safe – devices die, and unfortunately, they can't always be repaired. Whilst sometimes stored data to a device can be recovered, it isn't always possible. With Dropbox, you can be certain your work is safe in case the disastrous day comes when your laptop decided to stop working. Sharing folders has never been quicker – gone are the days of sending emails back and forth to colleagues with updated work – now yourself and your colleagues can view updates and new files right from your shared Dropbox folder.
Dropbox is a simple, effective way to save and share your work. It's the perfect way to secure online storage that can be accessed at any time by yourself, team members and non-team members.
Just skip the follow-up email, Dropbox will alert you when a member of your team has viewed your file! Dropbox has made big advances to ensure its software is mobile friendly, you can literally do anything you usually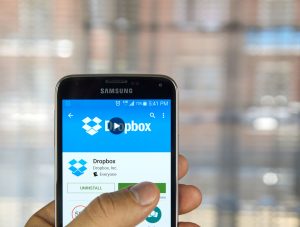 do in your office from your phone, no matter where you are.
Via your mobile phone you can do the following –
Access the entire content of your folders
Third party apps can access and edit your files
Upload photos and videos directly to your Dropbox
Share files by email, text or a different app
You can connect your personal and work Dropbox accounts and keep them separate
1. join.me
It isn't always possible to meet face-to-face. Your company may have clients across the world and it's undoubtedly a lot cheaper to pay a monthly join.me subscription than overseas plane tickets. Yes, there's Skype and Facetime, but they don't have the extra features that join.me does. Meetings sometimes have a lot of people included, and to sync everybody's schedules can sometimes be an impossible mission. People can be running late, making last minute cancellations or they may simply not be able to make the same date and time as everybody else.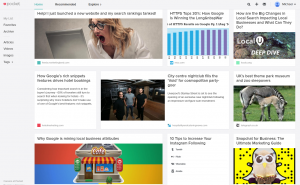 Join.me is the solution to busy unpredictable schedules. It has everything you could possibly need –  it's simple, fast and easy to use. How could you possibly save more time than with instant online meetings straight to your mobile? Don't worry about participant download or registration, it's not required!
With just one click, join.me will allow you to join or even start a meeting! Meetings couldn't be any simpler or quicker.
Users can:
Meet face-to-face
Collaborate and share their entire device screen, apps, web pages or a document
Internet calling
See who's talking
Individual mute
File transfer
It doesn't stop there – you can brainstorm, illustrate your ideas and close sales with the mobile whiteboard! Unfortunately, this is only available for iOS, but it's just a waiting game until we all can use this incredible feature!
Whilst join.me is, in my opinion, is the best app to save time; it was certainly hard to choose which should go in the top spot.
You can also check out the below productivity apps too:
If you're aiming to be more productive for the New Year, downloading these apps to your mobile is a definite step in the right direction!