Beginner's Guide to Find Your Competitors
In today's article, we'll be looking at the research tools that will help you find your competitors.
Most businesses have some form of competition. Whether it be an organisation across the road that has the same target market, or an ecommerce company selling similar products and services.
No matter if you have direct or indirect competitors, identifying who they are and what they're doing is crucial to an effective digital strategy.
Knowing who your competitors are may be hard to discover – but lucky for you there are plenty of research tools that will help find your business competitors.
Top Tools to Find Your Competitors
1. Google
What do we do when we have a question? Most of us go to Google.
You have two options to use Google for competitor research.
Use the "related" search tool to find similar websites to your own. Simply type related: along with your domain name and SERPs will show you a list of similar websites.
For example … related:amazon.com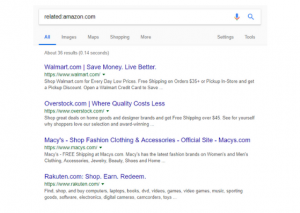 Or, use the keywords you're interested in (by using Google Keyword Planner) and take a look at what websites are appearing in the top spots of SERPs. Take a look at each page, their on-page SEO, links and what they do.
By analysing each competitor website, you'll be able to spot trends that tend to push them up SERPs for specific keywords.
2. Google Maps
Google Maps is great for finding local competitors, since all the basic information is at your fingertips.
All you need to do is enter a local search to discover who's close to you.
For example, "Indian restaurants in Altrincham".
Take note of:
– Reviews
– Star rating
– Whether they have a 360 Virtual Tour
– Images
– Company information
You'll discover the location of competitors around you, but also how you compare to those in the same area. Who knows – you might even pickup tips to better your own local listing.
3. SEM Rush
SEM Rush, the all-in-one marketing toolkit, allows you to see your online performance, as well as your competitor's. Here's how SEM Rush can help with competitor research:
– Domain overview: monitor your competitors' presence, discover their organic and paid keywords and their performance on desktop and mobile
– Traffic Analytics: uncover traffic sources, user behaviour and top referring domains
– Charts: compare traffic and keywords for up to 5 competitors at a time
– Organic Research: find competitors in organic search results, keyword strategies and how they appear in SERPs.
– Backlink Analytics: analyse backlink profiles, referring domains and link building opportunities by tracking their lost links
4. Social Media
Analyse their social media pages – a good place to start is Facebook, Twitter, Instagram, LinkedIn, Pinterest and Google Plus. Social media marketing is a popular marketing strategy, so you'll probably find some useful tips and facts about your competition too.
Look out for:
– Profile descriptions
– Likes / follows they have
– How often they post
– Whether they use organic and / or paid advertising
– Popular content
Once you've started to find your competitors, you can conduct a report that gives a representation of where your rivals are and where your business currently is compared to them.
Why not check out our Digital Marketing Terms Glossary?
About the author:
Marie Harwood is a Digital Marketing Assistant at Different Gravy Digital, Hale, Cheshire.
Different Gravy Digital are a full service Digital Marketing Agency operating in the Hospitality & Leisure, Financial Services, Legal & Property sectors. Products and services range from; 3D & 360° Tours, Website Design & Build, Social Media, Video Production, Search Engine Optimisation (SEO), Content Creation, Email Marketing, Online Feedback / Review Systems and Paid Advertising (Google, Bing and Social Media).
Contact Details:
marie@differentgravydigital.co.uk
0161 706 000
120a Ashley Road, Hale, Altrincham, Cheshire, WA14 2UN