BING WHO?
Bing has 873,964,000 searches a day. Yes, Google has over 5 times as much, but if you don't advertise on Bing, you're not reaching your entire potential audience.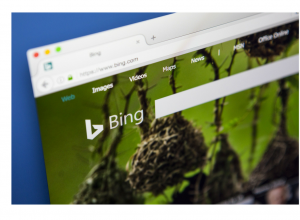 Bing might be alien to you, but it's still a popular search engine that attracts users every day. Just because their market share is nowhere near as big as Google's, doesn't mean we should completely dismiss the use of it.
Bing Ads have some benefits that Google AdWords don't, so it's important for marketers to not put all their eggs in to one basket and focus entirely on Google AdWords…
What Are Bing Ads?
Your Bing Ad would appear on the entire Bing network, including searches made on bing.com, yahoo.com and Aol.com search engines.
Just like Google AdWords, Bing allows businesses to pay to appear at the top of SERP (search engine result pages) for searches that are relevant to their site content.
Bing runs an auction, and if you're successful you can appear at the top of SERP when the search includes your keyword/s.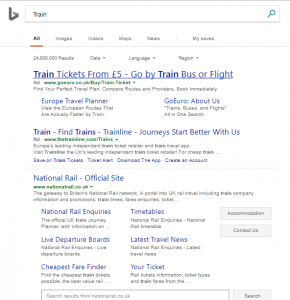 As you can see from the image above, sponsored Bing Ads appear at the top of SERP.
What Do Bing Auctions Consider?
Your bid
Bing wants to make a profit. Therefore, you need to outbid the competition for your keyword, since your bid is most likely to determine whether you are successful in your auction.
Relevancy
If no one clicks on your ad, Bing aren't maximising their profits. Bing know the ad must be relevant to users who are searching for your keyword as they'll more likely to click on it. Bing operates a pay-per-click system (PPC), so every time someone makes a search using your keyword and clicks on your ad, Bing will charge you for it.
Your Landing Page experience
It's vital your ad is relevant, but your landing page must be too. If you're ad is about selling a pair of blue jeans, your user expects to be sent to a page where you're selling the pair of blue jeans, not a pair of brown ones. Your landing page (the first page your user will see after clicking your ad) must be appropriate, or you could risk not closing the business and potentially losing the auction.
During your auction, I suggest to keep asking yourself, 'Am I proving how useful I am to the user'. That's what will matter most to Bing.
There isn't much difference between Google and Bing's process for having a sponsored advertisement, but are there more advantages to Bing than we think?
The Advantages of Bing Ads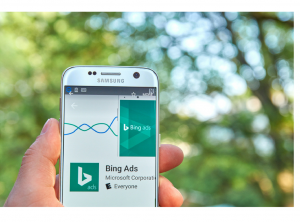 Operates a pay-per-click model
Bing Ad users pay a bidding fee, but after that they only pay Bing when a user has clicked on their ad using their keyword. You won't be wasting money – if your ad isn't effective, you won't be losing profits and you can resolve why your ad isn't working. Which leads me to my next point…
Bing's Dashboard
You can see just how effective your ads actually are! Bing's dashboard will allow you to see how many users saw your ad, how many proceeded to click on it and how much you paid for each click. You can keep making amendments until your desired number of users engage with your ad!
But what advantages do Bing have over Google?
It's cost effective
Your PPC fees will be a lot less than Google's and you'll also have a lot less competition. It's a win-win, Bing isn't as popular for business advertisements, so your bid doesn't need to be as high to achieve the equivalent ad position as you would have to pay on Google.
Don't worry about the effect of negative keywords
Negative keywords are very important on both Bing and Google. You can add negative keywords (when you request your ad not to be shown for a specific word) to your ad group and campaign levels – but Bing won't penalise any of your targeted keywords. If you add a negative keyword that's included in a keyword you intend to target, your ad will still appear in SERP.
Google doesn't allow this luxury – negative keywords will block any related searches, even if it's relevant to one of your targeted keywords.
A different demographic
It really depends on who your target market is. Around 40% of Bing users are between 34-54 years old. Whereas, on average Google users are younger. Who are you selling to? You need to consider if your sponsored search engine ads are reaching your market …
The Bottom Line …
You could always use both? Bing and Google work harmoniously together. You don't need to bother designing new campaigns for Bing. Your AdWords campaigns can be turned easily into Bing Ads with just a few alterations.
Bing doesn't support as many languages as Google AdWords and you can only have one language per ad group. But don't worry – if Bing doesn't accept your AdWords language, it will automatically translate to the parent language.
Bing Ad's shouldn't be an afterthought. Nor should you abandon Google AdWords.
Use them both, see how you can make them work together. Bing is part of the future and they'll undoubtedly help boost your sales and ROI!
Different Gravy Digital have the experience and expertise to assist your company with Bing Ads.
If you would like a free, no obligation consultation … contact us today!
mg@differentgravydigital.co.uk
About the author: 
Marie Harwood is a Digital Marketing Assistant at Different Gravy Digital, Hale, Cheshire.
Different Gravy Digital are a full service Digital Marketing Agency operating in the Hospitality & Leisure, Financial Services, Legal & Property sectors.  Products and services range from; 3D & 360° Tours, Website Design & Build, Social Media, Video Production, Search Engine Optimisation (SEO), Content Creation, Email Marketing, Online Feedback / Review Systems and Paid Advertising (Google, Bing and Social Media).
Contact Details:
marie@differentgravydigital.co.uk
0161 706 0004
120a Ashley Road, Hale, Altrincham, Cheshire, WA14 2UN